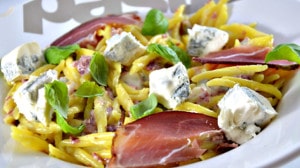 Recipe: Liguri trofie with gorgonzolas
Recipe of Trofie liguri with Gorgonzola, a real killing this pasta and its accompaniment. Always a beautiful moment a beautiful plate of pasta, here generously garnished with Parma ham, a true souvenir of Italy. I used the Barilla brand which is doing very well at the moment with new pasta, each more delicious than the next. The cheese came from my cheese maker, a slaughter of sweetness and taste.
Recipe ingredients
Recipe for Trofie liguri with Gorgonzola 2 people:
200 g Barilla Trofie Liguri dry pasta
150 g raw Parma tallon ham
150 g of Gorgonzola
10 basil leaves
Instructions
Heat the salted water for cooking the pasta.
Throw the pasta into a large volume of boiling water.
Leave to cook for about 10 minutes.
Cut the gorgonzolas into cubes
Thinly slice 6 pieces into the raw ham heel, then coarsely slice the rest.
Roughly mix the raw ham.
Drain the trofies in a colander.
Crumble the cured ham on the pasta, then mix.
Add the cubes of Gorgonzolas on the pasta, reserve 8 cheese cubes for decoration.
Toss to incorporate the gorgonzola into the pasta.
Divide the pasta between your two plates.
Add the Gorgonzola cubes.
Place the slices of ham.
Add the basil leaves.
Pepper generously and serve.
Preparation time: 10 minutes
Cooking time: 10 minutes
Number of people: 2
4 star rating: 1 review
What wine to drink with: Trofi liguri with Gorgonzolas
My favorite wine for this recipe: Côte de Provence red Grape variety: Sirah, Grenache noir, Cabernet Sauvignon
Temperature between 15 ° and 16 °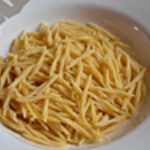 Raw pasta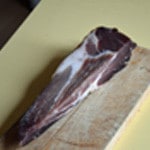 Ham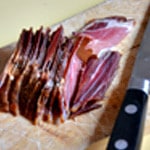 Slice the ham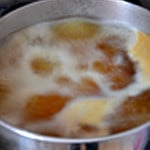 Cook the pasta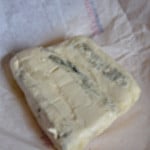 The gorgonzolas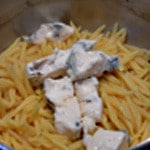 Melt the cheese into the pasta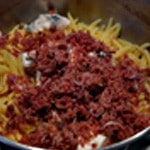 Chopped ham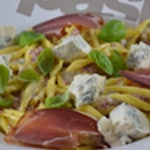 Zoom