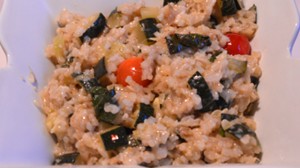 Recipe: Zucchini Risotto
Courgette risotto recipe, they abound in our gardens, beautiful zucchini, I don't like them too big. A risotto rice that will remain soft with these generous zucchini in water, taken directly from the garden to pass into the risotto. Of course with a risotto it is impossible not to add grated Parmesan, so that it delicately perfumes this dish. I chose Arborio rice, but there are other brands …
Recipe ingredients
Zucchini risotto recipe for 5 people:
1 zucchini of 500 g
400g Arborio rice
1 red onion
1 tablespoon minced shallots
125g of parmesan powder
10 cherry tomatoes
1 teaspoon of dry oregano
2 tablespoons of olive oil.
Basil leaves
Instructions
Rinse the zucchini, then cut it into cubes.
Peel the red onion and slice into rings.
Heat the olive oil in a large skillet.
Brown the onions and shallots.
Add the zucchini as soon as the oil is hot.
Add the rice and let it toast for a few minutes, constantly stirring the ingredients in the pan.
Cover with water and simmer gently, watching the water level.
Add the Parmesan and oregano while stirring.
Place the basil leaves just before serving.
Preparation time: 30 minutes
Cooking time: 10 minutes
Number of people: 45
4 star rating: 1 review
What wine to drink with: Zucchini risotto
My favorite wine for this recipe: Bandol rosé Cépage Mourvèdre, Cinsault, Grenache noir
Temperature between 08 ° and 10 °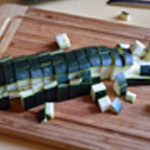 Cut the zucchini
Sear the onions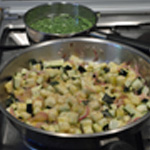 Add the zucchini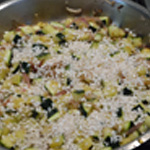 Add the rice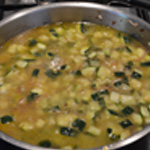 Pour the broth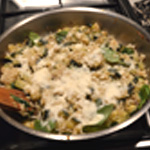 Add the parmesan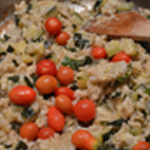 Cherry tomatoes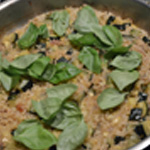 Add basil