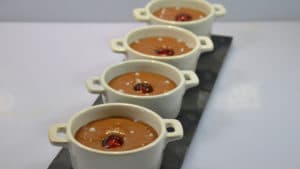 Praline Milk Rocher Mousse Recipe
Just like at home, we love chocolate in all its forms, I present a rocher mousse with praline milk. A chocolate mousse with a special flavor, you will love the pieces of hazelnuts from the Rochers. An easy dessert to make where you will easily find the flavors of these chocolate bites, it was therefore natural for me to make this rock mousse with praline milk. I really like these recipes, the chocolate is so good. You can add dark chocolate if you want a more consistent mousse.
Recipe for Mousse au rocher au lait Praline for 5 people:
Ingredients
7 rocks or 245 g
20 cl of cream
50 g of 70% chocolate
2 fresh eggs
5 candied cherries
1 teaspoon of granulated sugar
Instructions
Heat the cream in a saucepan.
Cut the Rochers into eight, then add them to the boiling cream, off the heat.
Crush the chocolate and add it to the still hot cream.
Mix together after a few minutes.
Break and separate the eggs.
Whip the egg whites until stiff.
Add the yolk to the chocolate mixture, then whisk it in.
Finally, incorporate the eggs, whisked in snow, without breaking them.
Preparation time: 20 minutes
Cooking time: 0 minutes
Number of people: 5
4 star rating: 1 review
Deliciously scented, this mousse will have its great effect, you will find this delicious taste of the Rocks and the crunchy pieces of hazelnuts.
Which wine to drink with: Mousse au rocher au lait Praline
My favorite wine for this recipe: Banyuls Cépage Carignan and Grenache noir
Temperature between 09 ° and 14 °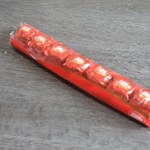 The rocks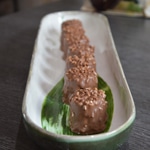 Rocks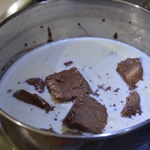 Melt the Rocks
Add the egg whites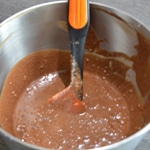 To mix together