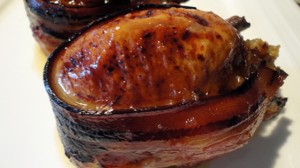 Recipe: Quail with honey and stuffed with foie gras
Roasted quails or stuffed quails, for holiday meals at the end of the year. This quail with foie gras, happiness on your plate, this poultry lends itself well to the end-of-year meal and indeed its size is reasonable. at will in a not too hot.
Recipe ingredients
Quail recipe with honey and stuffed with foie gras for 4 people:
4 quails
80 gr of foie gras
80 gr of Paris mushrooms
80 gr of peeled chestnuts
4 strips of bacon
4 slices of stale bread
1 teaspoon of olive oil
2 cloves garlic,
4 tablespoons of honey,
2 sprigs of flat-leaf parsley
25 cl of white wine
Salt and pepper
Instructions
Prepare the mushrooms, then dry them with food paper.
Wash the flat-leaf parsley, then wipe it dry.
On a cutting board, roughly chop the parsley, garlic, mushrooms and chestnuts with a knife.
Dip the breadcrumbs with half the white wine.
Brown the preparation with the chestnuts in the oil over medium heat for 5 minutes.
Then add the breadcrumbs and cook for another 5 minutes.
Salt and pepper
Cut the foie gras into 4 equal parts
Stuff the quails with your preparation, starting with the foie gras.
Cover the quails, then place them in an oiled baking dish.
Mix the rest of the wine with the honey, season with salt and pepper,
brush this preparation on each quail using a brush.
Cook the quails for 35 minutes at 180 °
Baste them 3 times with the rest of the honey preparation.
Preparation time: 30 minutes
Cooking time: 35 minutes
Number of people: 4
4 star rating: 1 review
What wine to drink with quail in honey and stuffed with foie gras
My favorite wine for this recipe: Saint Emilion grand cru, Grape variety: Merlot, Cabernet franc, Cabernet Sauvignon
Temperature : between 15 ° and 16 °