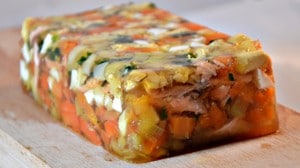 Recipe: Salmon Hure
Salmon hure recipe, a nice starter to start a meal, there was a promotion on whole salmon, I couldn't resist. The salmon cooked in the oven with the vegetables, they remained slightly crunchy, I love the vegetables in jelly that are not overcooked. A jelly recipe, I will present a vegetarian version another time, for people who do not consume pork jelly. Salmon, one of the most popular fish in France, probably because of its price.
Recipe ingredients
Salmon Hure recipe for 4 people:
250 g skinless salmon fillets
2 eggs
1 shallot
1/2 bunch of flat-leaf parsley
1/2 bunch of chervil
1 bunch of chives
2 leeks
2 tablespoons of capers
2 sachets of jelly
1 spoon of Port
10 pickles
2 carrots
5 cl of water
10 cl of dry white wine
Salt and pepper
Instructions
Peel the carrots and prepare the leeks;
Cut the leek white in half.
Prepare a dish that goes in the oven by placing the salmon.
Add whole carrots and leek whites.
Season generously with salt and pepper.
Pour in the white wine and water.
Place in the oven at 180 ° for 20 minutes.
Let the salmon cool.
Check that there are no bones left in the fish.
Remove the leaves from the salmon.
Cut the carrots into small cubes.
Cut the leeks lengthwise then into small cubes.
Finely chop the parsley, chives and chervil.
Cook the eggs for 10 minutes in a large, simmering water broth.
Cut the eggs into mirepoix.
Mix the vegetables, egg and salmon.
Pour into the mold provided.
Prepare the jelly.
Add the Port to the jelly.
Let the jelly cool.
Pour the jelly over the preparation.
Let cool for at least 3 hours.
Preparation time: 45 minutes
Cooking time: 0 minutes
Number of people: 4
4 star rating: 1 review
What wine to drink with: Salmon Hure
My favorite wine for this recipe: Chablis Cépage Chardonnay
Temperature between 07 ° and 08 °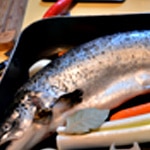 Cook the salmon
Add carrots and leek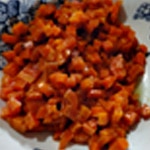 Cut into mirepoix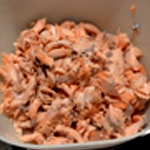 Strip the salmon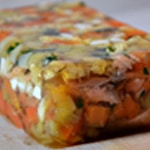 Mold with jelly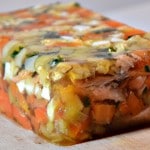 Salmon Hure