Recipe: Hot oysters and hazelnuts
Summary: Hot oyster and hazelnut recipe, a new hot oyster recipe here served with vegetables, well I admit that canned spinach is not great, next time I will try with fresh spinach. I loved this idea of breading the oysters in the hazelnut powder, cooking in the oven made it possible to have a very light oyster, I will explore this idea. It really changes from other hot oyster recipes this time no sabayon for these hot and hazelnut oysters. Here we are on December 1, I will present 2 recipes a day until December 31, a recipe at 11:30 a.m. and a recipe at 5:30 p.m.
Recipe ingredients:
Hot oyster and hazelnut recipe for 4 people:
12 Hollow oysters N ° 3 from the Arcachon Basin
385 gr canned spinach
2 large tablespoons heavy cream
2 tablespoons of ground hazelnuts
2 tablespoons of bread crumbs
1 egg
12 county slices
Instructions
Open the oysters and collect the first water
Collect the second water.
Take the oysters out of the shell and place them in a colander.
Filter the water.
Crush the peppercorns.
Let reduce by half.
Pour in the wine and let reduce by half for about 10 minutes.
Add the cream and reduce further to obtain a very smooth sauce, approximately one tablespoon per oyster.
Pour the canned spinach in a saucepan add the heavy cream and cook for a few minutes.
Place the oyster shells on a ball of aluminum foil, and press so that it is quite stable.
Wipe the oysters with absorbent paper.
Mix the breadcrumbs.
Crack the egg and beat it well.
Dip the oyster in the egg, then the breadcrumbs.
Place the spinach at the bottom of the hollow oysters.
Place one breaded oyster per shell.
Lightly pepper each oyster.
Pass in a hot oven at 200 ° for 7 to 8 minutes, as soon as the Comté is toasted it's ready.
Preparation time: 35 minutes
Cooking time: 15 minutes
Number of people: 4
4 star rating: 1 review
What wine to drink with: Hot oysters and hazelnuts
My favorite wine for this recipe: Côte du Rhône blanc Cépage Viognier
Temperature between 08 ° and 10 °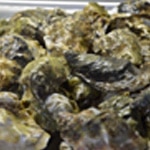 Open the oysters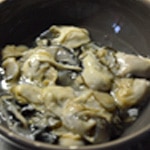 Drain the oysters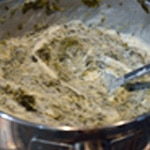 Prepare the sauce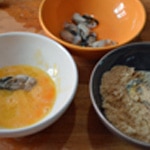 Bread the oysters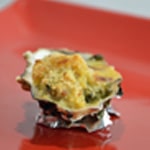 Zoom