Mango Gratin Recipe
Instructions
Mango dessert tonight to finish a meal with friends, I chose this easy gratin I went to the market this morning, in front of these beautiful ripe mangoes, I immediately thought of making a dessert with mangoes. A fruit sabayon recipe for an easy meal I wasn't taking any chances, they love mango. Lightly scented with white rum, this fruit sabayon was a gentle end to a very friendly evening.
Mango gratin recipe for 4 people:
Ingredients
1 large ripe mango
40 g brown sugar
4 egg yolks
10 cl of rum
10 g brown sugar
Instructions
Separate the yolks from the whites.
Add the sugar to the egg yolks.
Beat with a mixer for 5 minutes to whiten the preparation.
Peel the mango.
Cut it into slices.
Heat the sabayon in a double boiler and continue beating, allowing the preparation to thicken.
Place the mango slices in the ramekins.
Spread the sabayon around the mango slices.
Sprinkle with the 10 grams of sugar.
Place in a hot oven, grill at 200 ° for 7 to 8 minutes.
Stop cooking as soon as the preparation has taken color.
Preparation time: 30 minutes
Cooking time: 7 to 8 minutes
Number of people: 4
4 star rating: 1 review
What wine to drink with Mango Gratin:
My favorite wine for this Alsace Riesling Grape variety: Riesling
Temperature between 8 ° and 10 °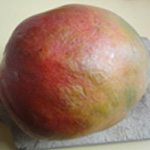 The mango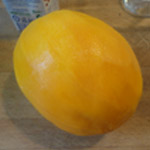 Peel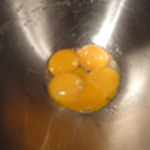 The yellows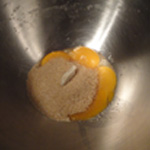 Add sugar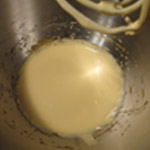 Blanch the yolks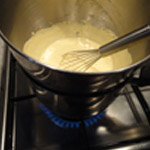 Heat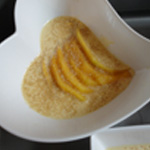 Brown sugar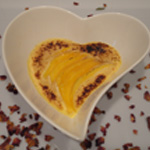 Ready