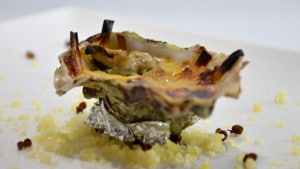 Recipe: Hot oysters and leeks
Hot oyster and leek recipe, requested by my daughter, it's also one of my favorite hot oyster recipes. I love these still barely crunchy leeks with this powerful iodine sabayon. Hot or cold oysters are often served at home, yet we live in Franche Comté and the ocean, like the sea, is far from home. I also take great pleasure in cooking and opening them, I like when the oyster resists opening it when it lets go and the shell opens. Hot oysters and leeks, my favorite recipe for oysters.
Recipe ingredients:
Hot oyster and leek recipe for 3 people:
12 Hollow oysters N ° 3 from the Arcachon Basin
1 large leek
40 gr of butter
15 cl of liquid cream
15 cl of white wine
12 county slices
Instructions
Peel the leek, then cut it in half lengthwise.
Cut into four parts and then into very thin strips.
Open the oysters and collect the first water.
Collect the second water.
Take the oysters out of the shell.
Filter the water.
Heat a pan with the butter.
Add the leek slices, let them sear they should become translucent.
Crush the peppercorns.
Let reduce by half.
Pour in the wine and let reduce by half for about 10 minutes
Add the cream and let reduce further, in order to obtain a very smooth sauce, you need about a tablespoon per oyster.
Place the oyster shells on a ball of aluminum foil, and press so that they are quite stable.
Place the leek at the bottom of the shell, without letting it overflow, because it will burn.
Place an oyster on the leeks per shell.
Mix the egg yolk with the sauce off the heat.
Pour sauce over each oyster to fill the shell.
Lightly pepper each oyster.
Place the county slice on the sabayon.
Pass in a hot oven at 200 ° for 7 to 8 minutes, as soon as the Comté is grilled it is ready.
Preparation time: 10 minutes
Cooking time: 7 to 8 minutes
Number of people: 3
4 star rating: 1 review
What wine to drink with: Hot oysters and leeks
My favorite wine for this recipe: Chablis Cépage Chardonnay
Temperature between 08 ° and 12 °
Rinse the oysters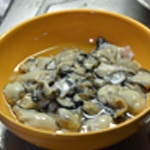 Open the oysters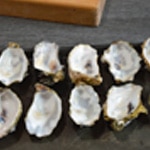 Wash the shells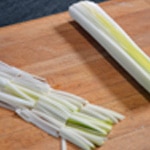 Slice the leek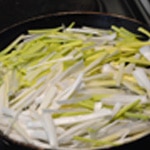 Sear the leek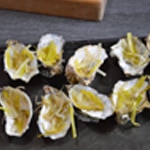 Add the leek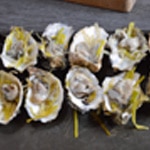 Lay an oyster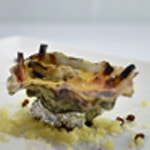 Zoom