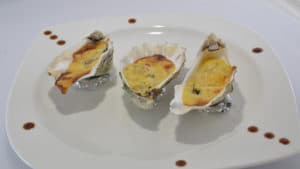 Hot oyster recipe with Bergerac blanc
We love oysters at home and especially hot oysters. With this recipe, I wanted to put the Dordogne region in the spotlight by making a Bergerac blanc sauce. What an intense moment to start a meal with hot oysters in Bergerac blanc with its floral scent and green fruit. Bergerac blanc divinely perfumes this sabayon, the cream brings a little sweetness and voila. With the approach of the end of the year celebrations oysters are in the spotlight but here we eat them every day. Léonie particularly affects this kind of dish, she would go back to her mother's for a week and wanted to leave with a platter of oysters all ready, just to put them in the oven, well see. The hot oysters in Bergerac blanc are a marvel, a marriage of the Atlantic and this sweet region of the cradle of our civilization, the Dordogne. It is with the Château de Fayolle in Périgord and Sylvie who immediately responded to my request for a partnership that I present this Bergerac wine to you.
Hot oyster recipe with Bergerac blanc for 6 people:
Ingredients
18 number 2 oysters
100 gr oyster water the second
200 gr of white Bergerac
25 gr of butter
2 shallots
15 cl of liquid cream
2 egg yolks
40 gr of Comté in strips
Instructions
Rinse the oysters under the tap to remove all impurities.
Open the oysters by throwing in the first water.
Peel the shallots then finely chop, especially if you are serving them.
Melt the butter in a saucepan then sear the shallots without browning them.
Wet with oyster water, passing it through a Chinese beforehand.
Pour in the ¾ of the Bergerac blanc and let reduce a little.
Poach the oysters for a minute, then place on food paper.
Place the shells on a ball of aluminum foil so that they are very stable
Place an oyster in each shell
Add the rest of the Bergerac blanc off the heat.
Add the egg yolk to the not too hot reduction, mix to incorporate the yolk.
Fill the oysters with your sabayon.
Place a strip of Comté cheese in each oyster.
Spend 4 minutes in the oven to color the Comté.
Preparation time: 30 minutes
Cooking time: 4 minutes
Number of people: 6
4 star rating: 1 review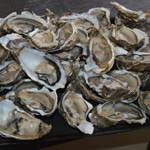 Open the oysters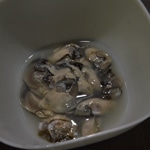 Oysters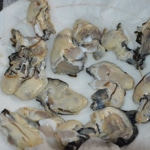 Oysters are ready to cook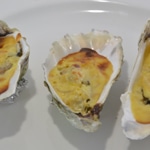 Oyster Gratin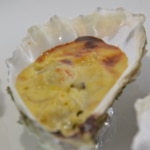 Zoom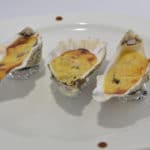 What wine to drink with: hot oysters with Bergerac blanc
My favorite wine for this recipe: Bergerac blanc grape variety savagnin blanc, Sémillon and Muscadelle blanc
Temperature between 08 ° and 10 °
Partnership with the Château de Fayolle in Saussignac in the Dordogne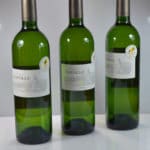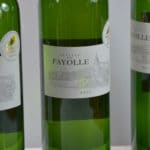 Zoom
A thought to all those connected from France or abroad in love with French cuisine and its wines, here is a great opportunity for you to buy a quality wine, without any risk, to accompany my hot oyster recipe in Bergerac blanc I selected this Bergerac 2015 vintage wine from Château de Fayolle after tasting it, I really liked its fragrance with floral notes and green fruits.
Bergerac blanc 2015 from Château de Fayolle in Saussignac in Dordogne
In Bergerac, the winegrowers harvest fully ripe grape varieties that are well suited to their terroirs. From the first contact with Sylvie, I felt her passion for good things. While tasting this Bergerac blanc, I particularly liked its pale yellow color with shimmering green reflections, but also and above all its aromas of green fruits and wild flowers. It goes wonderfully with fish and particularly seafood. Awarded a star in the 2016 Hachette guide, it will not leave anyone indifferent.
Fayolle castle
24240 Saussignac
Phone 05 53 74 32 02
Admin [at] chateaufayolle.com </p