Recipe: Hot oysters with leek fondue
Recipe hot oysters with leek fondue, we love this kind of recipes at home, young and old alike eat it, while children do not eat it raw. I like oysters as much hot as they are raw, I like the iodized sides of raw oysters, but I also like the sweetness of a sabayon placed on an oyster baked in the oven. Hot oysters a great opportunity to introduce people who have never eaten oysters in principle they ask for more. Hot oyster recipe easy to make, the most delicate is the sabayon. Hot oysters with leek fondue for our Christmas meal. Remember a recipe in 2013
Recipe ingredients
Recipe Hot oysters with leek fondue for 4 people:
24 oysters (large n ° 3)
2 egg yolks
25 gr of butter
20 cl of liquid cream
1 large leek
15 cl dry white wine
Pepper
Instructions
Peel the leek then cut into two sections.
Cut the leek sections into very thin slices lengthwise.
Rinse the oysters with clean water, then open them by collecting their water.
Place the oysters flat in their shells and collect their water a second time.
Detach the muscle of the oysters from the shell.
Rinse the oysters under running water to get rid of impurities and scales.
Pass the oyster water through a fine Chinese.
Heat the butter in a frying pan very slowly, brown the leek slices, they must remain translucent.
Once transparent, add the oyster water and reduce by ¾.
Add the white wine once the water is reduced and pepper (no need to salt with the oyster water)
Let your preparation reduce by half.
Poach the oysters for a few seconds in the wine mixture.
Reserve the oysters
Add the cream in small doses, dripping into the preparation.
Place the shells on a ball of aluminum foil.
Place a few leek sticks then the oyster on the vegetables.
Off the heat, add the two egg yolks to the reduction and mix with a whisk.
Raise the temperature a little while the preparation thickens.
Fill each shell with the preparation.
Place in a hot oven at 200 ° for 15 minutes as soon as the oysters are browned, stop and serve very hot.
Preparation time: 1 hour (s)
Cooking time: 15 minutes
Number of people: 4
4 star rating: 1 review
What wine to drink with: Hot oysters with leek fondue
My favorite Tariquet Blanc wine for this recipe Grape variety: Ugni blanc; Colombart
Temperature between 10 ° and 12 °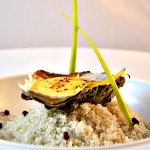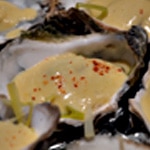 Zoom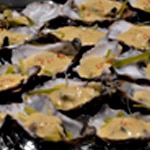 Pour the sabayon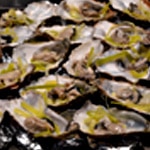 Lay the oyster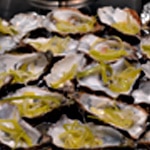 Place the leek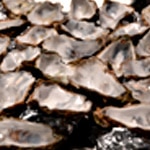 Store the shells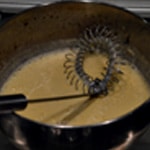 Add the egg yolks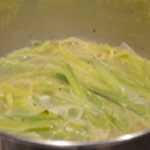 Add white wine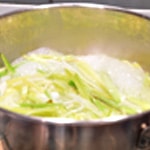 Cream the leek fondue