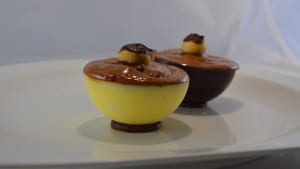 Milk chocolate and macadamia nut mousse recipe
Recipe for Milk Chocolate Mousse and Macadamia Nuts, I prepared this dessert for my friend Elsa, who received people. I love these generous chocolate desserts. Here I played with white chocolate and dark chocolate to make my milk chocolate and macadamia nut mousse. The Macadamia were a little crunchy, it was the interest, plus I caramelized them, in order to have an even more delicious dessert. Of course you will need a little more exercise to make your shells, but once you know how to do it you can escape to the land of chocolate. It is important to use a couverture chocolate to make your shells successful, I like them very shiny. Mycryo butter is not mandatory, but it facilitates the release of the shells and in particular if you want them very thin. Milk chocolate mousse and macadamia nuts at my friend's house, they loved it.
Recipe ingredients
Milk chocolate and macadamia nut mousse recipe for 6 people:
125 gr of salted macadamia
150 gr of dark chocolate for the shells or 100 gr of white and dark chocolate.
1.5 gr of Mycryo butter
Milk chocolate mousse
200 gr of milk chocolate
2 eggs
15 gr of sugar
30 gr of butter
5 cl of raw milk
To caramelize the macadamia nuts
40 gr of water
60 gr of sugar
Instructions
Prepare the chocolate mousse by clicking on the link, respect the ingredients above, to prepare the day before
Make the chocolate shells by clicking on the link.
Desalt the macadamia nuts by rubbing them in a clean tea towel.
Crush the macadamia nuts, reserving one nut per shell.
Heat 40 g of water with the 60 g of sugar, in order to reach a temperature of 120 °.
Off the heat, add the macadamia nuts and stir, the sugar will crystallize and turn white.
Return to temperature in the saucepan, the white sugar will caramelize and let it brown.
Mix well to coat the macadamia nuts with a good caramel.
Pour the caramelized macadamia nuts on a sheet of food paper.
Collect the 6 whole walnuts then crush the caramelized macadamia nuts as soon as they have cooled.
Pass the chocolate mousse in a pocket with a smooth nozzle.
Secure the chocolate shells on your plates with a little chocolate mousse.
Divide the caramelized macadamia nuts between the shells.
Fill the shells with milk chocolate, without overflowing.
Place in the refrigerator.
Place a macadamia nut on the milk chocolate mousse.
Enjoy without moderation.
Preparation time: 40 minutes
Cooking time: 10 minutes
Number of people: 6 People
4 star rating: 1 review
What wine to drink with: Milk chocolate mousse and macadamia nuts
My favorite wine for this recipe: Moelleux Vouvray Chenin Blanc grape
Temperature between 08 ° and 10 °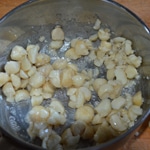 Cut the macadamias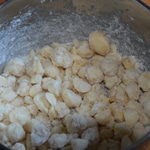 Coat in sugar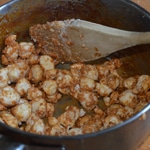 Color the caramel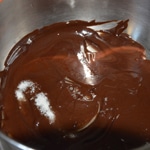 Melt the chocolate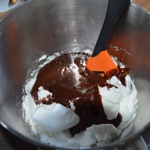 Add to egg white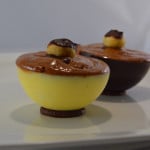 </p