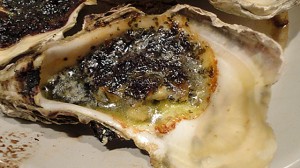 Recipe: Hot oysters with snail butter
Hot oysters recipe with snail butter A very happy marriage, with this snail butter, we really enjoyed ourselves. I just sprinkled them with almond powder, for that extra party flavor. They were well au gratin, the house perfumed to perfection to receive my friends, everyone tasted with great pleasure these hot oysters with snail butter.
Recipe ingredients
Recipe Hot oysters with snail butter: for 4 people
24 oysters
100 g butter
1 bunch of flat-leaf parsley
4 cloves of garlic
1 tablespoon of almond powder
Salt pepper
Instructions
Let the butter soften for an hour at room temperature.
Rinse the flat-leaf parsley, then dry it with food paper.
Peel the garlic cloves.
Very finely chop the parsley and garlic.
Mix the butter with the parsley and garlic.
Salt and pepper.
Open the oysters and throw in the first water, store them flat.
Discard the second water.
Place one oyster per shell, stabilized on coarse salt.
Place a large knob of butter on each oyster.
Sprinkle with almond powder.
Place in a hot oven at 220 ° for 15 to 20 minutes.
Preparation time: 35 minutes
Cooking time: 15 to 20 minutes
Number of people: 4
4 star rating: 1reviews
What wine to drink with: Hot oysters with snail butter
My favorite wine for this recipe: Puligny Montrachet blanc Cépage Chardonnay
Temperature between 12 ° and 14 °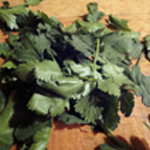 Hot-oysters-01 Wash the parsley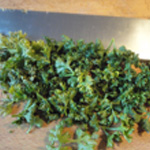 Hot-oysters-02 Chop the parsley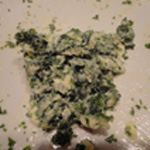 Hot-oysters-Mix with butter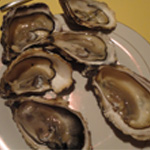 Hot-oysters-06 Open the oysters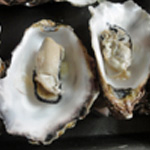 Hot-oysters-07 Arrange one oyster per shell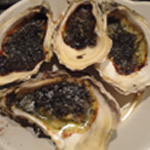 Hot-oysters-08 Cooked oysters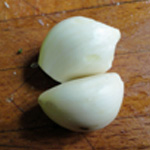 Hot-oysters-03 Peel the garlic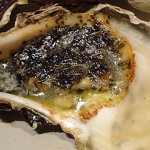 Hot-oysters-09 Finish