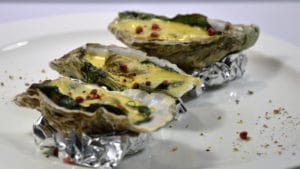 Hot oyster recipe with spinach
The end of the year for us is necessarily cold or hot oysters. We adore them, I admit that for me, the hot ones often make me crack. This time, I combined the spinach with a Riesling sauce, this exceptional wine from the Alsace plain. The warm oysters with spinach surprised us a lot, I took advantage of the arrival of my two friends, Elsa and Séverine, who feast on oysters. I cooked my oysters, of course, with the Riesling that I chose to accompany my warm spinach oysters, a marriage of happiness; the wine, in the sauce, perfumes this sabayon wonderfully. Instead, choose hollow oysters to make this recipe, you can place them on a ball of aluminum foil, they will be even more stable. A little bite in the oven and good tasting with these hot oysters with spinach. I took advantage of my partner in Alsace, the domain of Pierre Reinhart in Orschwihr
Hot spinach oyster recipe for 3 people:
Ingredients :
18 oysters (large n ° 2)
15 gr of butter
2 egg yolks
20 cl of liquid cream
150 g spinach
1 clove of garlic
15 cl of Riesling
20 g butter
20 gr of Comté
Salt
Pepper
Instructions
Rinse the oysters with clean water, then open them by collecting their water.
Place the oysters flat in their shells and collect their water a second time.
Detach the muscle of the oysters from the shell.
Rinse the oysters under running water to get rid of impurities
Pass the oyster water through a fine Chinese.
Hull the spinach, then wash it in clean water.
Peel the garlic, then finely chop.
Heat your butter in a pan very slowly, sear the garlic.
Add the spinach and sear for 2 to 3 minutes under a high heat.
In a saucepan, reduce the water in the oysters by half.
Add the Riesling, salt and pepper
Let your preparation reduce by half.
Switch to Chinese.
Poach the oysters for a few seconds in their Riesling water, they are cooked as soon as they are no longer transparent.
Reserve the oysters
Add the cream in small doses, tasting the Riesling sauce.
Place the shells in a baking dish, make a small ball with aluminum foil.
Place the shell by pressing a little, it must be very stable and horizontal.
Place two spinach leaves, then the oyster in the shell.
Add a slice of Comté cut with a peeler.
Off the heat, add the two egg yolks to the Riesling reduction and mix with a whisk.
Fill each shell with the sabayon.
Place in a hot oven at 180 ° for 5 minutes as soon as the oysters are au gratin, stop and serve hot.
Preparation time: 15 minutes
Cooking time: 5 minutes
Number of people: 3
4 star rating: 1 review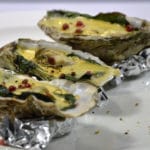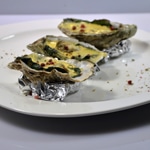 Zoom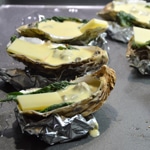 Lay the county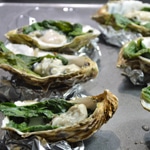 Place the oysters on the spinach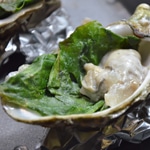 Cook the spinach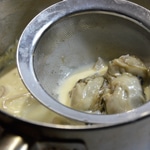 Cook the oysters
What wine to drink with: Hot oysters with spinach
My favorite wine for this recipe Riesling 2015 Bollenberg Grapes: Riesling
Temperature between 8 ° and 10 °
Partnership with Pierre Reinhard in Orschwihr in the Haut RHIN
A thought to all those connected from France or abroad in love with French cuisine and its wines, here is a great opportunity for you to buy a quality wine, without any risk, to accompany my hot oyster recipe with spinach I selected this 2015 Riesling wine from Pierre Reinhart's domain after tasting it, I really liked its softness but with character.
Riesling 2015 Bollenberg
Recognized as one of the best grape varieties in the world, it offers a bouquet of great finesse. It has been famous since its Gallo-Roman origin, was surely born in the Rhine valley in Germany, then established in Alsace at the beginning of the 15th century. Riesling makes it possible to produce white wines of great quality, very aromatic, lively and elegant. With a palette of aromas of flowers, lemon, and peach, mineral nuances for certain granite soils, they generally have a good balance between richness and acidity.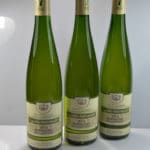 Bottles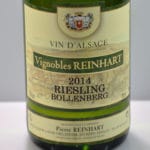 Zoo