In laminated Ham
Ham puff pastry recipe
Ham puff pastry, ideal for the evening meal, you will serve it just with a nice green salad. Soft and crunchy at the same time, it will not leave anyone indifferent, here the ham puff pastry is very generous, but I received friends for dinner, with a meal theme la bonne franquette. But children also love this kind of meal, it's true that it is a change from their restaurant ham frits. Of course you can also make it without bechamel, it's just a matter of taste with this ham puff pastry.
Ingredients
Ham puff pastry recipe for: 8 people
1 kg of puff pastry
500 g sliced ham
200 g grated cheese (Comté)
200 g of fresh cream
½ l of milk
40g butter
40 g of flour
2 eggs
Nutmeg
Salt and pepper
Instructions
Prepare the homemade béchamel sauce, then set aside
Add the crème fraîche as soon as the béchamel is cold.
Roll out the puff pastry (or order the puff pastry from your baker)
Place a sheet of parchment paper on the baking sheet.
Divide your puff pastry into two parts.
On the first part, place a slice of ham.
Cover with the béchamel sauce.
Sprinkle with grated cheese.
Repeat this operation until all the ham is used up.
Squeeze the ham a little so that the béchamel is evenly distributed.
Separate the eggs.
Glue around the dough with the egg white.
Then cover with the other part of puff pastry.
Close carefully making sure the gasket is tight.
Brush with the egg yolk.
Bake in a hot 180 ° oven for 30 minutes or more, do not hesitate to cover with aluminum foil if the puff pastry is colored too quickly.
Preparation time: 20 minutes
Cooking time: 30 minutes
Number of people: 8
4 star rating: 1 review
What wine to drink with: Ham puff pastry
My favorite wine for this Givry (Red) recipe (Grape varieties: Aligoté, Pinot noir)
Temperature between 15 ° and 16 °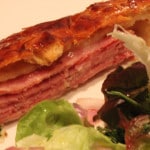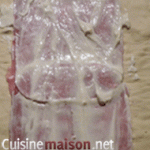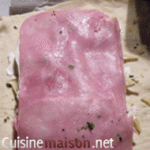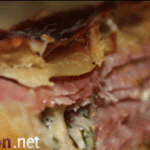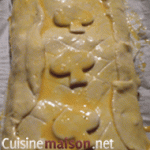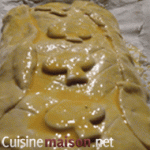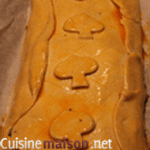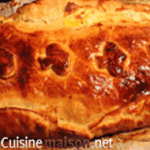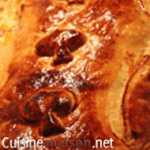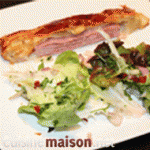 <img src="/wp-content/uploads/2021/09/357703662618671568.gif" class="aligncenter"