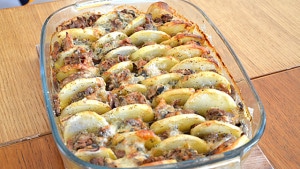 Recipe: Andouillette gratin
Recipe of andouillette and roquefort, for the pleasure of a private lunch. This rather rich gratin remains a fairly masculine meal, cream and andouillette is something. At home there are only two of us devouring andouillettes in all their forms. I also like them simply grilled in a pan, when the casing has burst and the meat is browning a little more. Andouillette gratin and Roquefort, it's already an old marriage. The cheese will gently flavor the andouillette and the potatoes, the mushrooms are especially there to provide a little water so that the dish is not dry. I type in my recipe while my dish is baking in the oven, it already perfumes the house well. I can't wait to taste this andouillette gratin. A complete meal, ideal for people who don't have much time for breakfast. All you have to do is program the oven and prepare your gratin the day before. Arrive at noon with an andouillette gratin frankly, you will be amazed.
Recipe ingredients
Andouillette gratin recipe for 3 people:
4 beautiful andouillettes
3 large potatoes
300 g large button mushrooms
150 g of Roquefort
1 tablespoon of strong mustard
3 tablespoons of cottage cheese
5 tablespoons of Sylvaner white wine
Salt and pepper.
Instructions
Peel the potatoes then cut into fairly thin slices.
Slice the andouillettes into rings
Cut the button mushrooms into large slices.
Lightly butter the gratin dish.
Place a slice of potato, then mushroom and finally andouillette.
Repeat until the end of the row.
Repeat the other row, starting with the andouillette, so that everything comes together better.
Mix the mustard with the white wine and the fromage blanc.
Pour the cream cheese mixture over the vegetables.
Crumble the Roquefort over the vegetables and andouillettes.
Place in the hot oven at 180 ° for 60 minutes.
Preparation time: 20 minutes
Cooking time: 1 hour (s)
Number of people: 3
4 star rating: 1 review
Which wine to drink with: Andouillette gratin
My favorite wine for this recipe: Sylvaner Cépage Sylvaner
Temperature between 08 ° and 10 °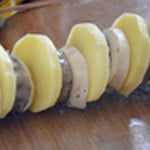 Store the potatoes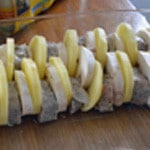 Alternate with the andouillette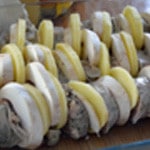 Cross the rangers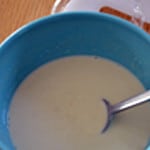 Prepare a cream sauce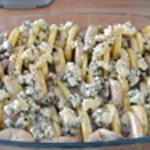 Ready to cook