Beaujolais boar terrine recipe
this wild boar terrine for the holidays. Wild boar terrine accompanied by blueberry chutney, wild boar terrine with country bread. Wild boar terrine with its jelly.
Recipe Wild boar terrine with Beaujolais Nouveau for 10 people:
Ingredients
1 kg of wild boar
0.800 gr of pork loin
0.300 gr of pork throat
150 g smoked bacon, thinly sliced
1 carrot
2 onions
3 cloves of garlic
30 gr of salt
1 teaspoon of pepper
¼ teaspoon of coriander
¼ teaspoon of cloves
½ teaspoon ground cumin
1 bottle of Beaujolais Nouveau
2 tablespoons of armagnac
Instructions
Denote the wild boar and cut it into small pieces.
Peel the onion and garlic cloves; cut them in four.
Peel and slice the carrots.
In a salad bowl, place the pieces of wild boar, add bay leaf, thyme and vegetables.
Cover with full-bodied red wine, all the flesh should be covered.
Shoot with film and set aside in the refrigerator for 24 hours, or better, 48 hours.
Cut the pork throat and loin into pieces, chop the meat with a grinder, then salt, add spices, mix the meat and spices well.
In a large salad bowl, chop the wild boar meat and the vegetables that have macerated in the wine.
Mix by hand, salt and pepper.
Respect the dosages of salt and pepper, it is really important for the balance of your terrine.
Form a sausage with finely cut wild boar meat with a knife.
Dress this sausage with smoked brisket, then set aside in the refrigerator.
Place the sliced breast at the bottom of your large earthenware terrine, taking care to let it protrude in order to cover the top of the terrine.
Fill the stuffing at the bottom, then the wild boar sausage, then finish with the stuffing.
I used a number 2 terrine.
Once your terrine is well loaded, then pressed with your fist, close with your breast.
Bake in a cold oven at the start, in a bain-marie for 2 h 15 min at 150 °.
Once cooked, collect the juice from the terrine, reduce it, pass through a Chinese then mix it with the jelly, let cool in the refrigerator. To serve, cut the jelly
in small cubes.
Preparation time: 60 minutes
Cooking time: 135 minutes
Number of people: 10
4 star rating: 1 review
What wine to drink with: Wild boar terrine with Beaujolais Nouveau
My favorite wine for this recipe: Beaujolais nouveau. Grape varieties: Gamay
Temperature between 8 ° and 10 °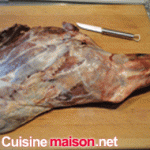 The lamb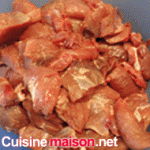 Marinate the meat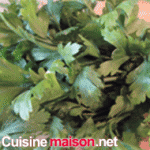 Chop the parsley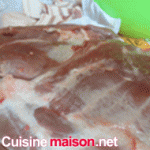 pork loin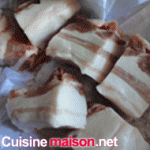 Pig throats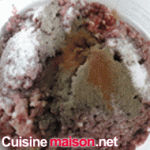 Spices and salt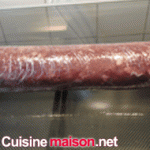 Meat sausage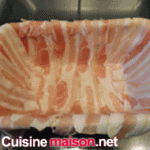 Bard the terrine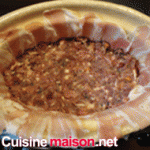 Fill the terrine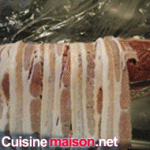 Bard the sausage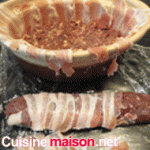 Place the sausage in the terrine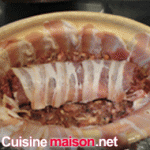 Garnish the terrine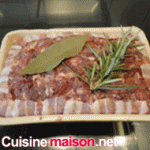 Ready to cook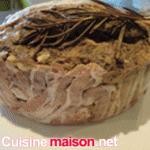 Cooked<img src="/wp-content/uploads/2021/09/7670061014109152449.gif" class="aligncenter"