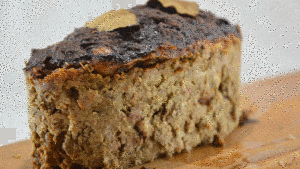 Chicken liver and armagnac terrine
Summary: Recipe Chicken liver terrine with armagnac, I love my homemade terrines, I love to prepare them and of course, I love to taste them with my friends. Always greedy, they are ready for each test. This time I chose a terrine of chicken liver with armagnac, which we will go to taste in Switzerland at my sister's. I'm sure she is fond of this kind of dish. Deliciously scented with Armagnac, this terrine was very tasty, not too fatty. She did not support the assaults of all my greedy. Terrine of chicken liver and armagnac with a good country bread, a loaf for example and a very spicy red like Saint Joseph. Here is happiness is not in the meadow but in the plate.
Ingredients
Chicken liver terrine with armagnac recipe for 12 people:
400 gr of poultry liver
300 gr of fresh breast
300 gr of chicken breast
400 gr of smoked bacon
2 onions
3 shallots
150 g of raisins
150 gr of hazelnuts
3 eggs
5 tablespoons of sour cream
1 tablespoon of dried thyme
14 gr of Armagnac
4 stems of coriander
2 bay leaves
1 teaspoon of oil
16 gr of salt per kg
1 gr of pepper per kg
Instructions
:
Preheat the oven to 180 °.
Peel and finely chop the onions and shallots.
Heat a pan with the oil, sweat the onion and shallot.
Weigh the meat.
Roughly chop the chicken livers, the chicken, the plain and smoked bacon and the minced onion.
Add the eggs, cream, dried fruits and armagnac.
Season with salt and pepper, respecting the doses.
Mix the preparation.
Line the terrine with strainer.
Fill the terrine with the preparation.
Cook in a bain-marie for 2 hours.
Preparation time: minutes
Cooking time: 120 minutes
Number of people: 12 people
4 star rating: 1 review
Which wine to drink with: Terrine of chicken liver and armagnac
My favorite wine for this recipe: Saint Joseph Cépage Syrah
Temperature between 18 and 19
Source: Gourmet campaign book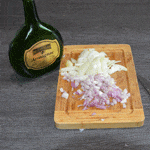 Armagnac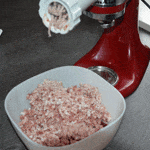 Chop the meat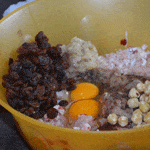 Add the eggs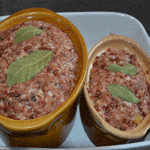 Ready to cook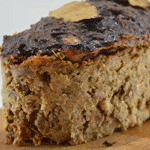 Zoom