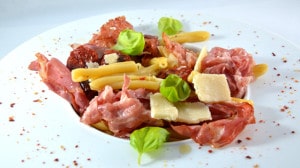 Recipe: Italian style Sicilian casarecce
Italian-style Casarecce Siciliane recipe, nothing better for a meal with friends in the evening than a good dish of Italian pasta. For this recipe, I greased the pasta in the deli cooking pan. I love the whole new collection from Barilla, they are nice and good. I find they look great on plates and I like their generous shapes. Casarecce Siciliane à l'Italienne, a generous plate with soft, barely heated meats.
Recipe ingredients
Italian Casarecce Siciliane recipe for 4 people:
500g of Casarecce Siciliane de Barilla
80g of Proscuitto Crudo Stagionato
80g of Coppa
120g of Pancetta Coppata
300g parmesan
12 petals of sun-dried tomatoes
2 tablespoons of olive oil
20 basil leaves.
1 tablespoon of olive oil
Instructions
Cook the pasta in a large volume of water, drain as soon as they are cooked and keep warm.
Rinse the basil leaves with water.
Slice the tomato petals into strips.
Grill the charcuterie for a few minutes without coloring it in olive oil.
Reserve the cold cuts in an oven at 80 °.
Pass the tomatoes to bring them up to temperature then set aside with the cold meats in a warm place.
Pass the cooked pasta in the pan to collect the cooking juices.
Heat the plates.
Add the pasta to the plates.
Add the cold cuts to the pasta, then the tomatoes.
Sprinkle with parmesan shavings just before serving.
Enjoy immediately.
Preparation time: 10 minutes
Cooking time: 20 minutes
Number of people: 4
4 star rating: 1 review
What wine to drink with: Casarecce Siciliane à l'Italienne
My favorite wine for this recipe: Red Chianti Grape variety: Sangiovese, Canaiolo
Temperature between 17 ° and 19 °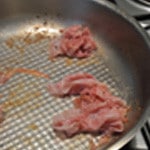 Grill the cold cuts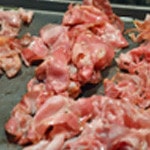 Keep warm in the oven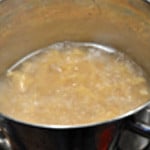 Cook the pasta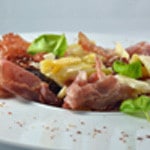 Ready to taste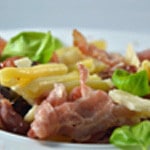 Zoom