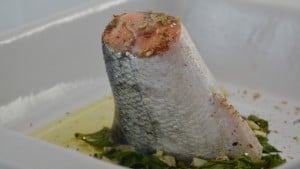 Salmon and celery recipe
Celery salmon recipe, I still chose low temperature cooking for this leg of salmon. A little longer cooking, because the salmon was quite thick. My daughter loves salmon and we eat them regularly, so we have to innovate. This time my fishmonger was making a price for a salmon tail. As there were 2 of us for lunch, I decided to take advantage of this offer. But immediately I saw my salmon cooked and served upright, finally a fish up to the task (sorry I was talking about the photo, of course). A salmon cooked just on a few celery leaves, a little pepper, a knob of butter, and the recipe is ready. Well I admit that we are not in the great gastronomy, but you have to eat well every day and I wanted to make you enjoy this salmon with celery. This recipe is reserved for people who like salmon that are still a little pink.
Ingredients
Celery salmon recipe for 2 people:
300 gr of salmon
A few celery leaves
1 clove of garlic
1 teaspoon of Séchouan pepper
1 teaspoon of olive oil
Instructions
Rinse the salmon under the tap, then dry with food paper.
Lightly oil a baking dish.
Wash with water, then dry the leaves of a celery stalk.
Finely chop the leaves, then add to the bottom of the dish, to place the salmon on top.
Lay the salmon on the larger side.
Season the salmon with salt and pepper.
Place a knob of butter on the slice of the salmon.
Bake for 1 hour 15 at 75 °
Enjoy straight out of the oven.
Preparation time: 10 minutes
Cooking time: 75 minutes
Number of people: 2
4 star rating: 1 review
What wine to drink with: Salmon with celery
My favorite wine for this recipe: Bourgogne Mercurey blanc Cépage Chardonnay
Temperature between 10 ° and 12 °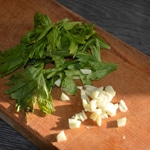 Chop the celery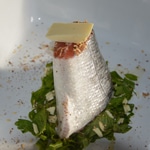 Zoom