Recipe: Spinach panna cotta
Spinach panna cotta recipe, a colorful verrine with a particular taste. I loved this little spinach taste, barely spiced up by the Parmesan cheese. Pleasure the eyes with this natural and luminous green, pleasure of the senses from the first blow of the spoon. Ideal for a dinner aperitif, it will charm young and old and will amaze more than one person. To test is to adopt it! You will understand that I particularly appreciated these verrines.
Recipe ingredients
Recipe for spinach panna cotta for 4 people:
500 g spinach
1 tablespoon of olive oil
25cl of liquid cream
2 tablespoons of parmesan
3 cloves of garlic
0.5 g of agar agar
1 spoon of red berries for decoration
2 balls of mozzarella for decoration
4 small basil leaves
Instructions
Rinse the spinach leaves.
Hull the spinach branches.
Cook the spinach in a pan with the oil for a few minutes.
Heat the cream with the spinach.
Mix the preparation as soon as it is hot add the Parmesan.
Return to temperature, from the first broth add the agar agar.
Salt and pepper.
Pour into the verrines and place in the refrigerator for at least an hour.
Sprinkle a little chives and add a pea per verrine.
Slice the mozzarella balls into quarters, then place a quarter in each verrine.
Cut the basil in four and plant it in the verrine.
Preparation time: 20 minutes
Cooking time: 5 minutes
Number of people: 4
4 star rating: 1 review
What wine to drink with: Spinach panna cotta
My favorite wine for this recipe: Bourgogne Chardonnay blanc Cépage Chardonnay
Temperature between 11 ° and 13 °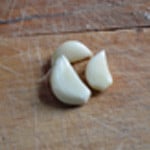 Peel the garlic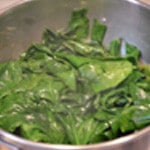 Sear the spinach
Cream the spinach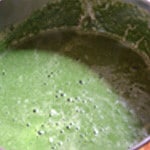 Mix the preparation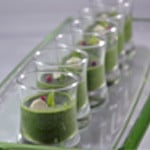 Zoom