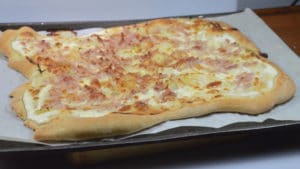 Jurassic Pizza Recipe
We had a friend of my daughter who was at home; often when we have a guest, we take the opportunity to make this kind of Jurassic Pizza dish, but when there are too many people it is not easy for cooking. A tribute to our beautiful region and its cheeses, I didn't use a Comté, it is often present in my kitchen, but I wanted to end the season with Mont d'Or, Léonie's favorite cheese. With a good dosage of cheeses for this beautiful Jurassic Pizza associated with this beautiful homemade dough (which I left to swell all afternoon), the result is great, the dough was tender. A great moment of relaxation with this Jurassic Pizza for our Saturday evening meal. You have to choose a well-made mound of gold for this recipe, I advise you to take it out of the refrigerator at least one night in advance and in addition it will be runny and easier to spread.
Recipe for for Pizza Jurassienne 3 people:
Ingredients
375 g of type 55 flour
195 g of water
75 g of liquid sourdough
20 g baker's yeast
6 g of salt
12 g caster sugar
23 g olive oil
6 tablespoons of cottage cheese
9 large tablespoons of mont d'or
6 large tablespoons of cancoillotte
200 g of cooked ham
1 large onion
250 g of cancoillotte
Instructions
Prepare the homemade pizza dough by following the link, as soon as possible, I made it in the early afternoon.
Once the protocol is complete, roll out the dough to the desired thickness.
Prick the surface of the dough with a fork, leaving a 1 cm edge.
Distribute the cottage cheese over the entire surface of the pizza, leaving the edge blank.
Season the fromage blanc with salt and pepper.
Peel then finely chop the onion, distribute it over the cottage cheese.
Heat the pot of cancoillotte in the microwave for 1 minute
Pour two tablespoons of hot cancoillotte over the pizza.
Microwave the mont d'or for 60 seconds.
Pour two spoons of hot Mont d'Or over the pizza.
Preparation time: 30 minutes
Cooking time: 25 minutes
Number of people: 3
4 star rating: 1 review
What wine to drink with: Pizza Jurassienne
My favorite wine for this recipe: Poulsard Cépage poulsard, Trousseau and pinot noir.
Temperature between 11 ° and 13 °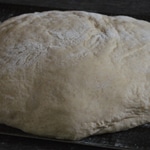 Let the dough rise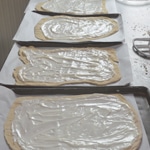 Roll out the dough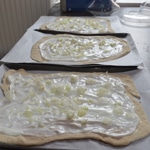 Spread the onions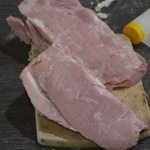 Slice the ham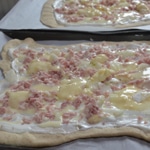 Pass in a hot oven