<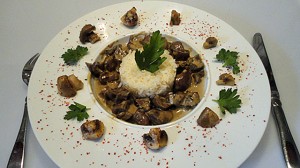 Recipe: Kidney with mustard
Mustard kidney recipe, it's always a house party when I come back from the market with kidneys. This time I cooked my kidneys with mustard and of course white wine. The mustard has spiced up my sauce sweetened with cream and wine, the kids loved it. I served my kidneys in cream with a very white rice, a real delight.
Recipe ingredients
Kidney with mustard recipe for 2 people:
1 Beef kidney
2 shallots
2 tablespoons of mustard
20 cl Heavy cream
2 tablespoons of frying oil
30 cl of Edelzwicker wine
180 g Paris mushrooms
15g butter
1 tablespoon of olive oil
Salt and pepper, 5 berries
Instructions
Trim the kidneys or have them prepared by your butcher.
Clean the mushrooms then cut them in 4.
Cut the kidney lengthwise into three parts.
Slice the beef kidney into pieces following the shape of the kidney.
Heat the pan very hot with cooking oil.
Sear the kidneys in the steaming oil and stir with a wooden spoon, 4 to 5 minutes.
Filter the kidneys through a colander to extract all the fat.
Place the kidneys in the pan and rinse them with lukewarm water.
Wash the pan and utensils.
Heat the pan with the butter.
Peel then finely chop the shallots and garlic.
Sear the shallot and garlic in the pan.
Add the mushrooms, leave the heat very high to evaporate the water from the mushrooms.
Stop cooking after 3 to 4 minutes, then set aside the mushrooms.
Add the pieces of beef kidneys to the pan.
Salt and pepper with the mignonette.
Add the mustard as soon as the kidneys have taken on a nice color.
Let the mustard roast.
Add the wine to deglaze the pan, let boil for 2 minutes.
Pour in the cream, then let it thicken.
Finish cooking the kidneys.
preparation time: 20 minutes
Number of people: 2
Cooking time: 1 5 minutes
4 star rating: 1 review
What wine to drink with: Kidney with mustard
My favorite wine for this recipe: Edelzwicker Cépage Chasselas, Riesling; Sylvaner
Temperature between 08 ° and 10 °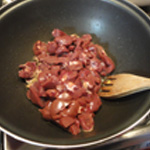 Grill the kidneys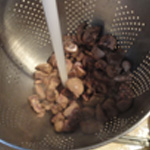 Rinse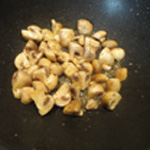 Sear the mushrooms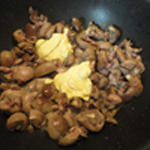 Cream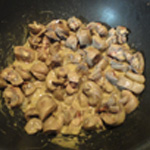 Let reduce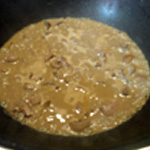 Add wine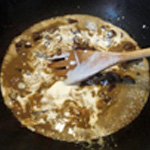 Let reduce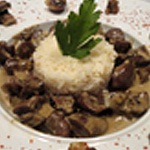 Zoom