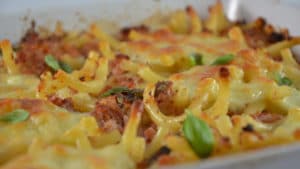 Penne rigate and Comté gratin recipe
We are big pasta eaters at home, however, no origin with Italy except a great love for this country and its people and especially its cuisine. In reality (and not to lie to you), when I prepared my revisited tomatoes, I had some stuffing left, so what could be more natural than to prepare a Penne rigate and Comté gratin with the rest of this stuffing. The trickiest thing about this dish is to find the right temperature and the cooking time to have a well au gratin dish, with penne still soft and not too crunchy; the duration for this penne rigate and Comté gratin was excellent. In principle, I use homemade pasta as often as possible, but for the penne, I still have some difficulties in making them, especially keeping the same size. Just a small green salad to accompany my Penne rigate and Comté gratin and lunch is ready.
Penne rigate and Comté gratin recipe for 4 people:
Ingredients
300g penne rigate
200 gr of ground beef
40 g smoked bacon
1 round tomato
2 small cloves of garlic
1 small onion
3 g of salt
7 large sprigs of flat-leaf parsley
½ tablespoon of breadcrumbs
1 pinch of ginger
Instructions
Preheat the oven to 200 °
Rinse the flat parsley, then wipe it with food paper, finely chop it.
Peel the onion and garlic.
Trim the meat, remove the rind from the breast, then weigh there.
Chop the meat alternately with the breadcrumbs, onion and garlic.
Season the meat with salt and pepper and add the ginger
Mix with a wooden spoon.
Stir in the egg and parsley.
Cook the penne in a large volume of boiling salted water.
Pass the pasta through a colander at the end of cooking.
Cool the pasta under the tap to stop cooking.
Lightly butter a baking dish.
Add half of the pasta to this dish.
Distribute the meat on the bed of pasta.
Add the rest of the pasta over the meat.
Sprinkle the top of the pasta with the breadcrumbs.
Grate the county.
Place in a hot oven for 15 to 30 minutes.
Preparation time: 20 minutes
Cooking time: 15 to 30 minutes
Number of people: 4
4 star rating: 1 review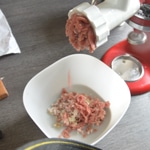 Chop the meat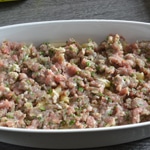 Add the meat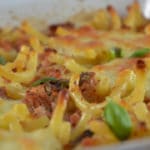 What wine to drink with: Penne rigate and Comté gratin
My favorite wine for this recipe Grapes: Alsace Pinot noir Grape Pinot noir
Temperature between 08 ° and 10 °