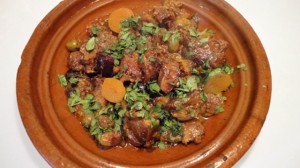 Recipe: Lamb tagine
Lamb tagine recipe, I cooked this tagine with dried fruits, sweet salty a real delight this lamb tagine. I love working with tagine, it cooks food leaving all the flavors. I sometimes grill my spices directly in the tagine. Moroccan cuisine with tagines, here dried fruits and lamb which has simmered gently in the middle of these dried fruits. We devoured this lamb tagine, flavored to perfection, not too sweet and of course on a tender meat.
Recipe ingredients
Lamb tagine recipe for 8 people:
1 kg 500 lamb shoulder
1 teaspoon ground cinnamon
½ teaspoon ground cumin
2 cinnamon sticks
2 small zucchini
80 g dried apricots
80 g of blond grapes
2 large tomatoes
80 g green olives
110 g black olives
1 large onion
1 teaspoon of 4 spices
2 teaspoons raz el hanout
1 teaspoon of harissa
Instructions
Heat a large cast iron casserole dish, sauté the onion in the oil for 2 or 3 minutes.
Add the spices and garlic and cook for 2 minutes, stirring constantly.
Add the lamb cubes and brown them on each side
Add the chicken broth, tomatoes and dried fruit.
Season to taste and stir well.
Bring to a boil and transfer to a tagine or other baking dish.
Continue cooking, covered, in a hot oven at 180 ° for 1 hour 30 minutes.
Preparation time: 60 minutes
Cooking time: 90 minutes
Number of people: 8
4 star rating: 1 review
What wine to drink with: Lamb tagine with dried vegetables
My favorite wine for this Corbières recipe: Carignan grape, Grenache noir, Cinsault
Temperature between 16 ° and 18 °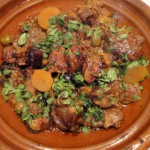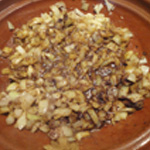 Sear the onions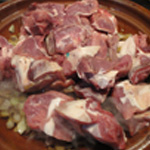 Sear the meat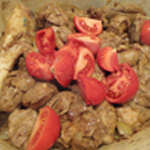 Turn the meat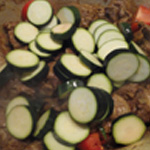 Add the vegetables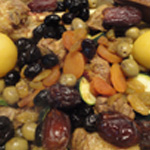 Add the dried fruits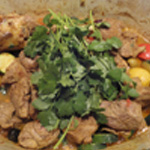 Sow-the-herbs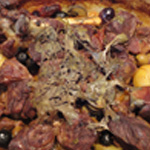 Tagine-cooked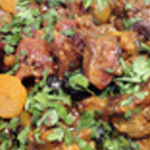 Zoom