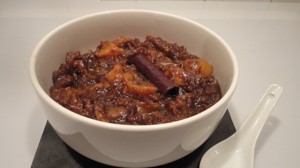 Recipe: Pear chutney
Pear chutney recipe to accompany your foie gras. I like this pear jam with figs, a chutney to accompany a foie gras, but also a chutney to accompany chicken fillets, cakes to flavor this cake. I always serve my ice-cold pear chutney, in order to develop its aromas. Nothing too difficult in the chutney, just a little patience. Recipe 2014 memory
Recipe ingredients
Pear chutney recipe for 20 people
2.600 g of pears
1 kg g onions
500 g figs
150 g of Cranberry
3 cinnamon sticks
25 cl of balsamic vinegar
3 star anise
250 g of brown powdered sugar
50 cl of water
1 tablespoon of olive oil
1 knife tip of ground cloves
4 star badian
½ teaspoon of green anise
Instructions
Cut the onions into small pieces and brown them with the oil in a cast iron casserole dish under low heat.
Add all the spices.
Peel and cut the pears into small wedges.
Add the pears to the onions as soon as they are translucent.
Cut the figs into strips, add them to the casserole dish.
Add the Cranberry berries.
Stir regularly, add the spoonful of cinnamon and the sticks.
Add the vinegar and sugar, then the water, cloves, and star anise.
Stir with a wooden spoon regularly, add the spoon of green anise.
Add the cinnamon sticks.
Cover with water.
Simmer 4 to 5 hours, there should be no juice left, stir regularly.
Preparation time: 30 minutes
Cooking time: 2 to 3 hour (s)
Number of people: 20
4 star rating: 1 review
What wine to drink: With pear chutney
My favorite wine for this recipe: Muscat de Rivesaltes, Grape variety Muscat blanc, Muscat d'Alexandrie
Temperature between 07 ° and 10 °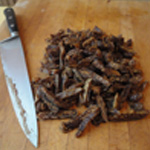 Cut the figs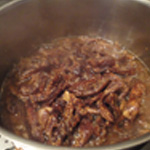 Cook the figs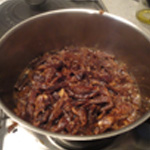 Let reduce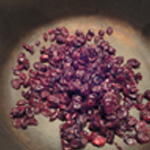 Cranberries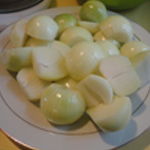 Peel the onions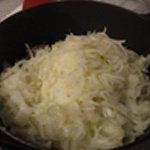 Cut the onions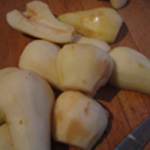 Peel the pears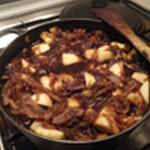 Simmer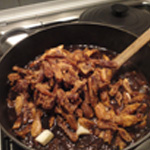 Simmer gently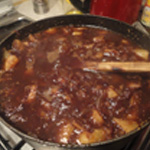 Add water
Spoon