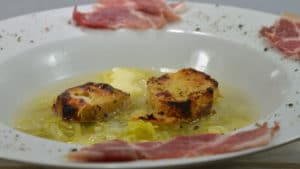 Leek and raw ham soup recipe
Summary: This is a version of Marguerite soup that remains, by far, my daughter's favorite. In addition, it is so easy to do. This time, I wanted to give it a little more character, I got a magnificent raw Bayonne ham heel in my hypermarket. I stripped it partly in order to grill the rind in my cast iron casserole dish, of course I added raw ham, (why be stingy?) But I did not cook it, I just sliced at the last moment of the ends of very fine chiffonades, frankly a pleasure this soup of leeks and ham. For this soup, I only put the leek whites, the rest of the green is stored in the freezer while waiting for my next vegetable soup. Usually and again this time, Léonie likes to add raw butter to her leek and raw ham soup, but frankly, I am not sure that it is necessary, indeed the heel of the raw ham, has delicately perfumed this beautiful Soupe.
Leek and raw ham soup recipe for 4 people:
Ingredients
4 beautiful leeks
4 potatoes
50 g of raw ham
Raw ham rind
Peppercorns
Salt
Instructions
Cut the root of the leek, the hairy part.
Keep only the white of the leek (the rest you can freeze it for another soup).
Slice the white of the leek as thinly as possible.
Rinse with clear water, then drain.
Peel the potatoes, then cut them into very small cubes.
Strip part of the heel of raw ham.
Heat a casserole dish and place the rinds flat in the bottom of the pan.
Let the fat melt under a low heat, so that it does not burn.
Add the potato cubes and cover with water.
Salt and give several turns of the grain mill.
Let the temperature rise, as soon as the water boils, add the chopped leeks.
Simmer for 20 minutes.
Slice thin slices of raw ham while it is cooking.
Place them around your plate.
Remove the rinds at the end of cooking the soup.
Pour the soup without overflowing into a deep plate.
Pepper with the pepper mill more or less according to the desired taste.
Enjoy without moderation.
Preparation time: 10 minutes
Cooking time: 20 minutes
Number of people: 4
4 star rating: 1 review
What wine to drink with: Leek and raw ham soup
My favorite wine for this recipe: Alsace Pinot noir Grape Pinot noir
Temperature between 12 ° and 14 °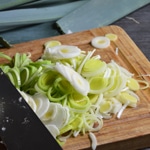 Slice the leeks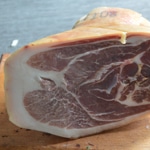 Raw ham heel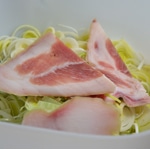 Cut the ham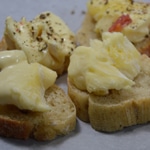 Prepare the croutons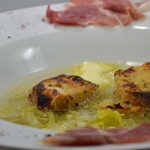 Zoom