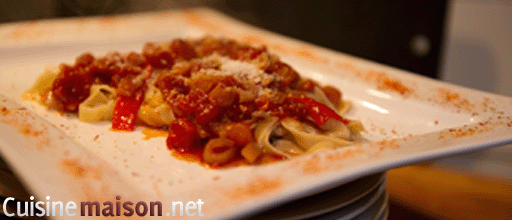 Tagliatelle al arrabiata recipe
Recipe for tagliatelle al arrabiata, here is one of my favorite recipes, particularly its strength chair. A recipe with hot peppers, a recipe for tagliatelle that takes your breath away. A beautiful dark red color to accompany this tagliatelle recipe. Arriabata a beautiful sauce that comes to us from Italy, the kings of pasta, they have a way of preparing them that at home, it is always a pleasure to eat pasta.
Ingredients :
Recipes Tagliatelle al arrabiata for 4 people:
350 g of fresh tagliatelle
1 can of peeled tomatoes
1 tablespoon of strong paprika
4 bird's eye chillies
1 onion
2 shallots
1 tablespoon of olive oil
Instructions
Peel and slice the onion and shallot.
Grill the onions with the shallots in a spoonful of olive oil.
Add the red peppers and turn off the heat.
Add the paprika.
Reduce the peeled tomatoes on a low heat, add the onions, cook for an hour.
Mix the peeled tomatoes and the onion.
Cook the pasta.
Heat the plates and place the pasta then cover with the sauce.
Preparation time: 10 minutes
Cooking time: 7 minutes
Number of people: 4
4 star rating: 1 review
Which wine to drink with: Tagliatelles al arrabiata
My favorite wine for this recipe: Saint Joseph, Grape variety: Syrah.
Temperature: between 18 ° and 19 °