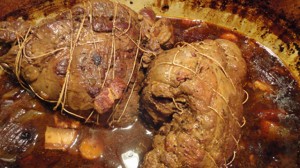 Recipe: Leg of venison with honey
Recipe leg of venison in the oven, flamed and cooked with honey for 7 hours. A cast-iron roast leg of venison to simmer slowly, it will be cut with a spoon, hence its name, Leg of roast with a spoon. Baking a large piece in the oven in a cast iron casserole dish is ideal, the rotating heat of your oven will coat your meat and cook evenly. A dark sauce will appear at the end of cooking, collecting all the juices on the casserole dish of your leg of venison with honey.
Recipe ingredients
Leg of venison with honey recipe for 8 people
1 leg of at least 3 kg
250 g smoked bacon
60 cl of white wine
10 cl of soy sauce
10 cl of balsamic vinegar
8 cl of armagnac
10 cl of honey
3 carrots
5 tomatoes
6 cloves of garlic
14 small white onions
1 teaspoon of Espelette pepper
1 tablespoon of oregano
1 teaspoon of paprika
2 tablespoons of thyme
50 cl of chicken broth
Salt and pepper
Instructions
Heat the casserole dish with olive oil then color the bacon.
Enter the leg of lamb sprinkled with oregano and thyme in the casserole dish.
Brush the leg with the honey.
Flambé with Armagnac.
Add the carrots in sections, onions and shallots. Let it cook a little.
Add the broth (two-thirds of the casserole dish) and bring to a boil.
Cover with the wine, soy sauce and balsamic vinegar.
Add the tomatoes cut into quarters.
Bake at 140 ° for 1 hour 30 minutes then at 130 ° for 5 or 6 hours.
Check the amount of broth and if necessary add more.
Serve with mashed potatoes (classic, vitelotte or sweet potato)
Preparation time: 10 minutes
Cooking time: 7 hour (s)
Number of people: 8
4 star rating: 1 review
What wine to drink with leg of honey
Thank you to Vincent my neighbor for his learned help.
My favorite wine for this recipe: Margaux. Grape varieties: Cabernet franc, Cabernet sauvignon, Merlot.
Temperature between 14 ° and 15 °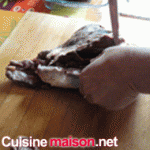 The lamb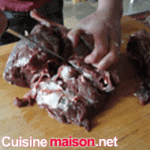 Bone the legs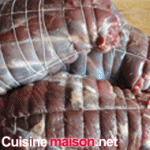 Legs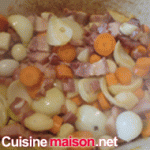 Sear the vegetables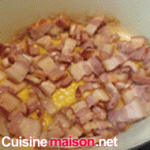 Sear the onions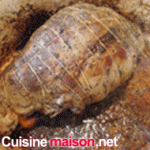 Color the leg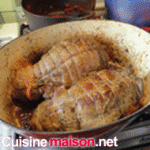 Tidy up the legs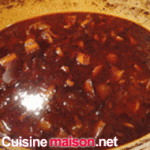 Reduce the sauce