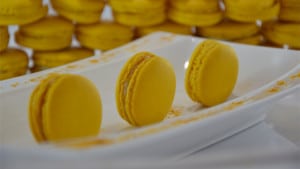 Recipe: Lemon Macarons
Lemon macarons recipe

, I had gourmet friends who had come to prepare these lemon macaroons. A beautiful afternoon with eight hands to make lemon macaroons, just for fun and gluttony, I won't mention a name…. I love this macaroon, I love the freshness of the lemon, I love its length on the palate and its slightly tangy taste. With Italian meringue, the macaroon takes on magical shapes, the coloring gives the macaroons a festive feel and gourmets dip their fingers everywhere in search of new culinary sensations.
Recipe ingredients
Lemon macarons recipe for 100 macaroons:
342 gr of ground almonds
342 gr of icing sugar
124 gr of egg white
Italian meringue
128 gr of egg white
175 gr of water
324 gr of granulated sugar
Lemon Ganache
270 gr of white chocolate
234 gr of lemon coulis
40 sugar
60 gr of butter
27 gr of liquid cream
4 gelatin sheets
2 gr of natural coloring
Instructions
Chop the chocolate.
Dip the gelatin sheets in cold water.
Bring the cream to a boil.
Add the gelatin leaves.
Pour in the lemon coulis.
Pour the boiling cream over the chocolate, then smooth with a spatula.
Gradually add the tempered butter and smooth the mixture by adding the 40 g of sugar.
Pour the ganache into a dish and let cool in the refrigerator.
Separate the whites from the yolks. Store the whites in an airtight container at room temperature. They will be perfect for macaroons in 48 hours.
Mix then sift the almond powder and icing sugar.
Make a well
Add the 124 gr of egg white.
Add the coloring
Mix with a spatula.
Assemble the 128 g of white snow.
Heat the water and add the sugar, go up to 122 °.
Gently pour in the syrup without touching the sides of the mixer.
Beat until the device has dropped to 50 °
Macaronate the Italian meringue and the almond powder with a spatula.
The preparation should become supple, smooth and shiny.
Under a sheet of baking paper, slide the templates
Form small balls 3-4 cm in diameter using a No. 8 piping bag.
Lightly tap the baking sheet to release any air bubbles.
Leave to crust (dry) 30 minutes, the macaroons are dry to the touch before placing in the oven
Cook in the oven hot fan heat at 150 ° C for 19 min.
Leave to cool after cooking before peeling off the macaroons.
When the shells are cold and the ganaches are ready when using, garnish half of the cockles with a pastry bag.
Assemble with a second shell and turn it to distribute the filling.
Place the macaroons in an airtight box and let rest in the refrigerator for at least 24 hours so that the macaroons become soft.
Preparation time: 4 hour (s)
cooking time: 18 minutes
Number of macaroons: 100
4 star rating: 1 review
What wine to drink with: lemon macaroons
My favorite wine for this recipe: Jurançon grape variety Gros Manseng and petit, Corbu blanc
Temperature between 06 ° and 08 °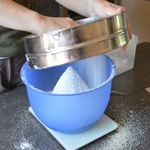 Pass through a sieve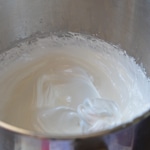 Italian meringue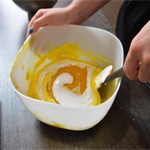 Macaroner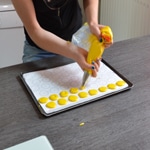 Pocket the macaroons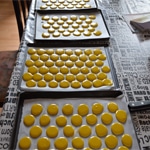 Crusted macaroons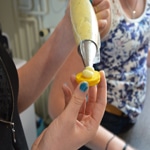 Add the ganache
Glue the other half macaroon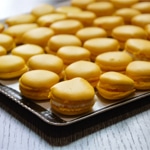 To taste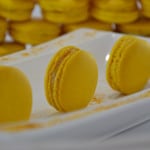 </p