Lemongrass Pork Recipe
This morning, in my supermarket, I found fresh lemongrass; straight away, I wanted Chinese cuisine (in any case of Chinese inspiration) and immediately I was ready for a Lemongrass Pork. Sweet and savory cooking is not everyone's business, I still like it, even a slightly spicy recipe; this lemongrass pork lends itself perfectly to all my desires this morning. I really like the pork which simmers gently, until it is slightly candied, this method is ideal for this Pork with lemongrass. You will love this slightly candied meat with all these flavors (barely spicy), slightly sweetened with honey and divinely scented with lemongrass sticks. From the first bite, you will love the flavors of this beautiful sauce, but also, and above all, this tender and soft meat.
Lemon grass pork recipe for 6 people
Ingredients
1,200 kg of rib of loin roast
1 marrow bone
25 cl of white wine
3 drops of Tabasco
3 sticks of fresh lemongrass
1 tablespoon of honey
½ teaspoon ground ginger
½ teaspoon of 4 spices
½ lime
½ can of peeled tomatoes
1 tablespoon of rice vinegar
1 tablespoon of olive oil
Instructions
Preheat the oven to 160 °
Slice the roast pork into 2 cm cubes.
Heat a cast iron casserole dish with olive oil.
Sear (letting them brown well) the pieces of meat.
Season the meat with salt and pepper.
Add the spices, then the spoon of honey.
Deglaze with the rice vinegar.
Add the lemongrass sticks cut into three pieces.
Add the peeled tomatoes.
Simmer in the oven for 120 minutes.
Enjoy at the end of cooking.
Preparation time: 20 minutes
Cooking time: 120 minutes
Number of people: 6
4 star rating: 1 review
What wine to drink with: Pork with lemongrass recipe
My favorite wine for this recipe Vacqueyras rosé Grape varieties: Mourvèdre, Grenache, Syrah
Temperature between 08 ° and 10 °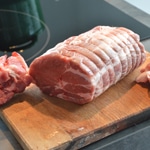 Trim the roast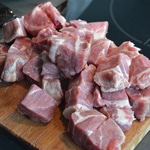 Slice into cubes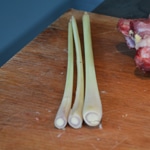 Slice the lemongrass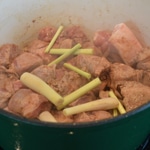 Cook gently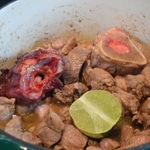 Add the lime