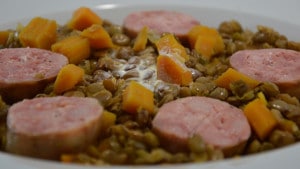 Recipe: Lentils with fresh sausage
Instructions
Lentil recipe with fresh sausage, this is an almost winter dish, but today it is not too hot and we wanted lentils with fresh sausage. The sausage comes straight from the Saturday market from my small producer. I chose it fresh not smoked, just for a change. I also added a lot of carrots to make it a full dish. The lentils cook slowly, I can't wait to taste them with this nice and generous sausage. Lentils with fresh sausage, a great desire for Sunday morning, we are going to feast, in the end we will only be two…. No need to share.
Recipe ingredients:
Lentils with fresh sausage recipe for 4 people:
1 fresh sausage
4 carrots
2 small onions
25 gr of butter
2 maggi cubes
500 gr of dry lentils
2 bay leaves
3 sprigs of thyme
Instructions
Peel the carrots then cut into small cubes
Peel the onions then cut into small cubes.
Heat the fat.
Sear the onions to make them translucent.
Add the carrots to sear them a little.
Dissolve the tablets in a glass of hot water
Rinse the lentils under the tap.
Toss the lentils with the carrots.
Place the sausage in the middle.
Add the bay leaf and thyme
Pour in the broth and cover with water.
Cover and cook for 45 minutes gently.
Preparation time: 10 minutes
Cooking time: 45 minutes
Number of people: 4
4 star rating: 1 review
What wine to drink with: lentils with fresh sausage
My favorite wine for this recipe: Anjou red grape variety Cabernet Franc and sauvignon
Temperature between 12 ° and 13 °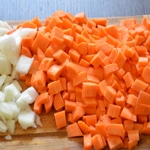 Cut the vegetables into cubes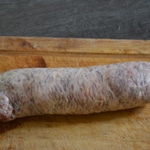 The sausage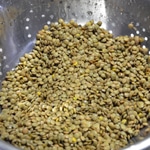 Wash the lenses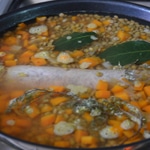 Cook the sausage and lentils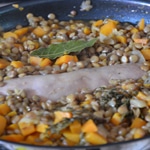 More liquid