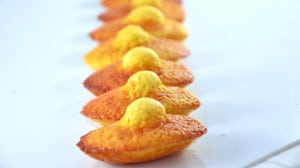 Recipe: Madeleines
Recipe for homemade madeleines, a killing, impossible to make too often, they are devoured right out of the oven. I had to grumble to calm the ardor of the gourmands. A pleasure to taste them, but also a lot of pleasure to make them. I love the preparation of these little mussels and I love seeing the center of the madeleine rise under the heat of the oven, a real delight. I will start again with madeleines all choco and choco vanilla, still a lot of pleasure.
Recipe ingredients
Madeleines recipe recipe for: 40 Madeleines approximately
4 eggs
½ lemon
¼ lime
3 g liquid vanilla extract
200 g of caster sugar
75 g milk
250g of flour
10 g of yeast
275 g butter
Instructions
Prepare the madeleine dough the day before.
Sift the flour and baking powder and mix.
Melt the butter.
Pull the lemon zest.
Beat the eggs with the sugar.
Add the zest, then the milk and vanilla.
Gently pour the flour into the yeast.
Pour in the hot but not boiling butter.
Mix until obtaining a homogeneous dough.
Reserve in the refrigerator overnight, so that the dough rests.
Heat the oven to 230 °.
Brush the madeleine molds with melted butter.
Singer the mold with the flour (the action of adding the flour to the sides to butter).
Tap the mold to extract the excess flour.
Fill a pocket with the Saint Honoré piping tip (If you do not master the pocket, a small spoon will do).
Pour in each location about 25 to 30 g of preparation.
Bake for 5 to 6 minutes, then lower the heat to 180 °.
Bake for another 5 minutes (be careful to stay in front of the oven the first time to determine the cooking time).
Return the oven to 230 ° when it is brought up to temperature. For the second cooking;
Unmold the madeleines and start again, until the dough is used up.
Preparation time: 15 minutes
Cooking time: 6 minutes
Number of madeleines: 40
4 star rating: 1 review
What wine to drink with: Madeleines
My favorite wine for this recipe: Muscat Alsace Grape Muscat
Temperature between 07 ° and 10 °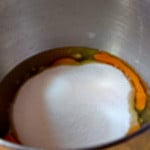 Beat Sugar and egg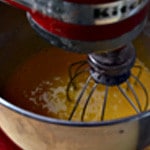 To mix together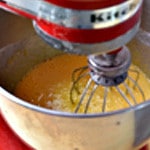 The volume should double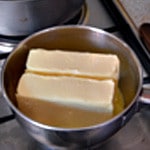 Weigh the butter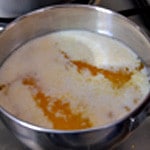 The hazelnut melt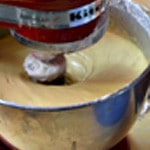 Butter and sugar preparation
Pour into the molds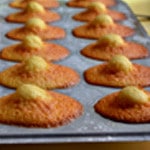 Unmold<img src="/wp-content/uploads/2021/09/8026305771846414018.jpg" class="aligncenter"