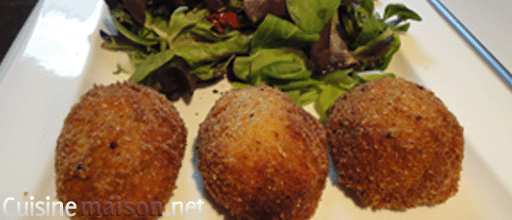 Tarnished
Summary: Potato recipe. Mash croquettes with prawns for dinner, this mash croquette is flavored with flat-leaf parsley and chives. A nice color for this mash croquette. Recipe for prawns, they should not be cooked, they will cook directly in the mash croquettes and lightly flavor the mash croquettes. I really liked these prawn mash croquettes, the barely crunchy pieces of prawns will not leave you indifferent. We really like prawns, often frozen it is difficult with us to find fresh ones, or at crazy prices.
Prawn mash croquette recipe. for 4 people.
Ingredients
500 g of potatoes
300 g shelled prawns
250 g breadcrumbs
50 g butter
4 tablespoons of fluid cream
3 garlic
½ teaspoon ground cumin
4 sprigs of flat-leaf parsley
8 sprigs of chives
1 teaspoon of Guérande salt
½ liter of grape oil
Instructions
Cook the potatoes in cold salted water for about 20 minutes as soon as the water simmers.
Drain and peel them, pass them through a potato masher to obtain a dry purée.
Add the butter, then the cream gradually.
Season with salt and pepper, add the cumin and peeled garlic.
Rinse and chop the parsley and chives, then mix them with the mash.
Shell the prawns and slice them into 1 cm slices.
Gently mix the prawns with the puree.
Sprinkle breadcrumbs on a tray to receive the croquettes.
Shape the croquettes using a large spoon.
Soak the croquette in the beaten egg, roll the croquette so as to put the egg everywhere.
Roll the croquette in the breadcrumbs.
Heat your grape oil without raising it too much temperature.
Cook your croquettes in the frying pan.
Place the croquettes on food paper for a few seconds.
Assemble the plates.
What wine to drink with: Mashed prawns croquette.
My favorite wine for this recipe Vin de Savoie Apremont Grape variety: Mondeuse, gamay, Pinot noir
Temperature between 15 ° and 16 °
Thanks to Shrimp Recipes from which I was inspired for my mash croquettes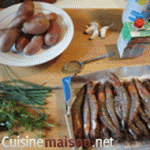 Ingredients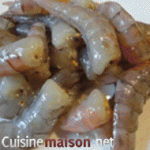 shell the prawns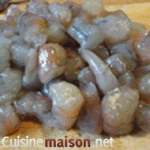 cut the prawns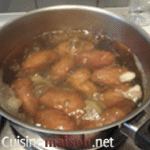 cook the potatoes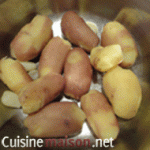 peel potatoes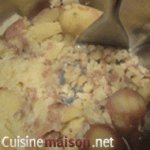 crush the potatoes
add the butter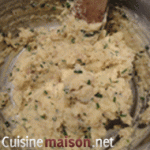 add the chopped herbs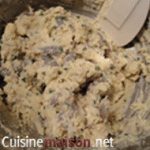 add the pieces of prawns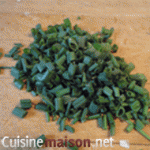 chopped chives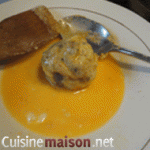 pass the croquettes to the egg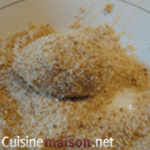 pass the croquettes to chapleure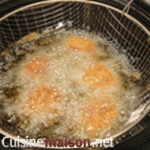 cook the croquettes in oil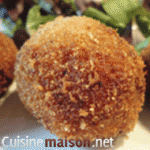 zoom on a kibble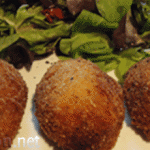 Tarnished