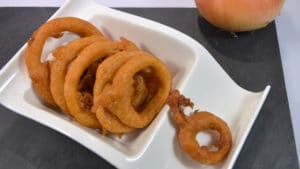 Onion fritters recipe
Summary: Ideal for an aperitif with friends, you will love to dip your onion fritters in small homemade sauces and your friends, adults and children, will love and taste them in no time. A great way to diversify aperitifs, with us we dig our heads at each aperitif in order to diversify as much as possible. These little onion donuts were delicious, I had made sure to make rings all the same width, I loved to bite into the donuts and find the onion still a bit crunchy.
Onion fritters recipe for 4 people:
Ingredients
2 large onions
150 g of flour
30 g of cornstarch
1 tablespoon of breadcrumbs
1 tablespoon of paprika
1 tablespoon of garlic powder
2 whole eggs
15 cl of beer
8 g powdered yeast
1 teaspoon of fine salt
1 tablespoon of oil
50 cl of oil for frying
Instructions
Separate the whites from the yolks.
Beat the egg whites with a pinch of salt.
Mix the flour and salt in a bowl.
Add the egg yolks, then mix.
Pour in the beer and oil, mix to obtain a smooth paste.
Gently fold in the stiff eggs.
Let the donut dough rest for 1 hour.
Peel the onions, then slice them regularly.
Heat the oil for the donuts.
Dip the onion rings in the donut batter.
Leave to fry for a few minutes, while the dough takes on beautiful, golden brown colors.
Turn the donuts over and let them finish coloring.
Place the cooked onion fritters on paper towels.
What wine to drink with: onion fritters
My favorite wine for this recipe: Grave rouge Cépage Cabernet Franc; Cabernet Sauvignon ; Merlot
Temperature between 12 ° and 17 °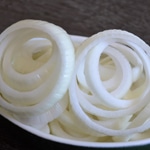 Slice the onions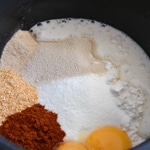 Prepare the dough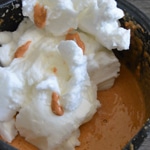 Beating egg whites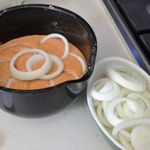 Dip in the preparation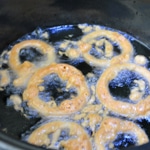 Fry in oil