<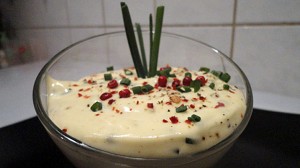 Recipe: Light mayonnaise
Recipe for homemade light mayonnaise, easy to make, it will allow many variations to accompany your vegetables, meats, fish. The mayonnaise can be flavored with different herbs such as basil, sorrel, chives. But also with different spices, curry, paprika, cumin, you can see just with a mayonnaise we can already change all tastes with a little imagination. With this light mayonnaise recipe, you cut calories in half.
Recipe ingredients
Light Mayonnaise recipe for 4 people:
1 egg yolk
1 tablespoon of mustard
Salt and pepper
12 tablespoons of rapeseed oil
1 teaspoon of cider vinegar
10 g chives
10 cl of fluid cream
Instructions
Take out the ingredients one hour before making your mayonnaise.
Break the eggs into a stainless steel bowl.
Add the mustard, salt and pepper.
Whisk in rotation to incorporate the mustard into the egg yolk.
Incorporate a small drizzle of oil, continuing your rotation movement with the whisk.
Continue until all the oil is incorporated.
Add the vinegar to whiten the mayonnaise a little.
Rinse the chives under the tap.
Chop the chives very finely.
Mix the chives with the mayonnaise.
Snow the egg whites.
Stir in the egg whites and mayonnaise.
Drain and refrigerate for at least an hour.
Preparation time: 20 minutes
Number of people: 6
Cooking time: 0 minutes
5 star rating: 1 review
What wine to drink with: it all depends on what it will accompany.
Thanks to Léonie for the pictures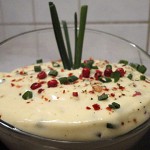 Mayonnaise Light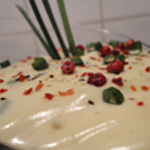 Zoom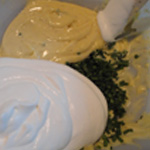 Mix mayo and whipped cream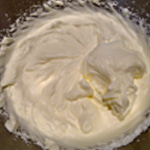 Assemble the whipped cream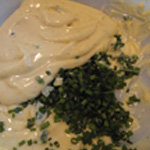 Assemble the mayo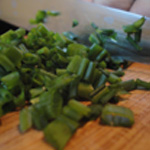 Cut the chives