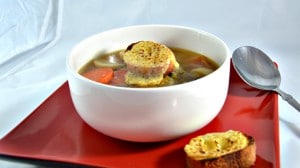 Recipe: Meat broth
Recipe for meat broth or quick heat pot for a warm dish. To cook a meat broth, it will take a little patience, the broth should simmer with pleasure with its meat and vegetables. It will be delicately flavored with meat and vegetables, then it will take on a slightly amber color. Ideal this winter to start a meal, the meat for this recipe will be used with Hachi Parmentier, I regret I should have cooked more to make a nice beef salad. Meat broth another taste for a nice homemade soup.
Recipe ingredients
Recipe Meat broth for 6 people:
650 g of stewed meat
1 large leek
2 stalks of celery
3 carrots
2 onions
2 shallots
2 cloves garlic
½ bunch of parsley
1 large tomato
5 g of salt
1 g of pepper
Instructions
Rinse the meat to remove all impurities.
Place the meat in a large Dutch oven.
Cover with plenty of water.
Salt with coarse salt
Add the spices and pepper.
Place the bunch of parsley tied with the tail.
Simmer for 45 minutes.
Skim from the first broths, to remove all impurities
Add water once the time has passed.
Peel the vegetables.
Cut the celery stalks and leeks into slices, add them to the broth.
Cut the white turnips in four, add them to the broth.
Add the sliced carrots, garlic and shallots.
Cut the tomato into eight wedges then add to the broth
Simmer at a low simmer for at least 2 hours.
Preparation time: 45 minutes
Cooking time: 2 hour (s)
Number of people: 6
4 star rating: 1 review
What wine to drink with: Meat broth
My favorite wine for this recipe: Beaujolais village Grape gamay
Temperature between 12 ° and 14 °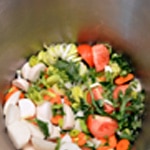 Prepare the vegetables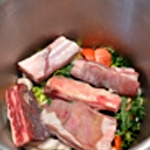 Add the meat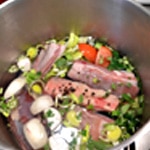 Pour water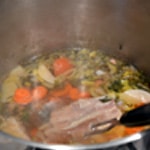 Let cook slowly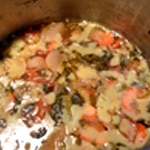 Let cool to degrease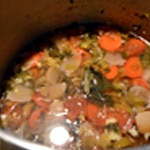 Defatted broth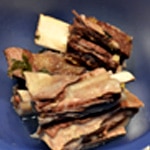 Meat for the parmentier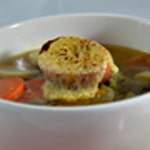 Zoom and crouton