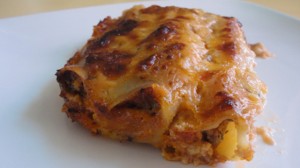 Recipe: Meat cannelloni
Recipe for cannelloni with meat or fish, the choice is yours, I like both ways. I never get tired of pasta, I love it in all its forms, hot or cold, sweet or savory. If you have difficulty chopping your meat, ask your butcher to prepare the meat for you, he is equipped for this.
Recipe ingredients
Meat cannelloni recipe for 12 people:
500 g of cannelloni or about 44 pieces
500 g of pork ribs
500 g ground beef
800 g of fresh breast
2 tablespoons of sherry vinegar
2 tablespoons of balsamic vinegar
1 teaspoon of Tabasco
1 teaspoon of Cardomane
1/2 teaspoon of ginger
25 cl of white wine
2 large onions
1 teaspoon of coarse salt
50 g frozen parsley
50 g coriander
10 g paprika
100 g parmesan
600 g of mozzarella
1 tablespoon of concentrated tomato
1 can of peeled tomatoes (400g)
2 eggs
100 g butter
50 g flour (70 g)
50 g butter (70 g)
1/2 liter of whole milk
Nutmeg
Freshly ground pepper
Instructions
Bake the meats with the spices and a drizzle of olive oil for 15 minutes in a hot oven at 200 °.
Drizzle the cooked meat with the vinegars.
Prepare the tomato paste as here
Chop the meat with the small grill.
Chop the mozzarella and add half to the preparation.
Mix all the ingredients, adding the two eggs and the spices.
Fill the cannelloni with the stuffing.
Place the cannelloni in an oiled, oven-safe dish
Heat the butter in a saucepan.
Add the flour and mix all the time, let it color a little.
Wet with lukewarm milk, mix to incorporate the flour.
Add nutmeg and pepper, season with salt.
Pour over the cannelloni.
Sprinkle the Parmesan then add the other half of chopped mozzarella
Place in a hot oven at 150 ° for 2 hours.
Preparation time: 50 minutes
Cooking time: 120 minutes
Number of people: 10
4 star rating: 1 review
What wine to drink with Meat Cannelloni:
My favorite wine for this Coteau du Tricastin recipe: Syrah, Mourvèdre, Grenache noir
Temperature between 14 ° and 15 °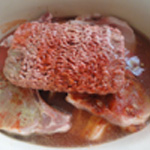 Meat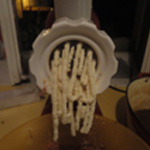 Chop the meat
Spice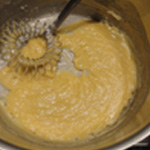 Béchamel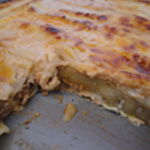 Cooked