Melon salad recipe
A recipe for very hot days, although this year we should not miss out on it, in Franche Comté we are not spoiled. I really like this fruit when it is very ripe, the melon is always very sweet and deliciously flavored. Melon salad, a sweet and savory recipe, for an evening dinner. We are starting to find some really good melons. In addition, it is a very generous fruit whose price drops in high season, of course I will favor French melons. This melon recipe can also be served as an aperitif dinner. You just need to slice the melon into larger cubes. Mint is a light flavor of my melon salad, adding color to this beautiful melon salad.
Melon salad recipe for 2 people:
Ingredients :
1 ripe melon
6 dry mint leaves
100 g of raw ham
1 teaspoon of sunflower seeds
10 cl of balsamic vinegar
Instructions
Peel the melon raw.
Slice the melon into small cubes.
Rinse the mint leaves, then dry with paper.
Finely chop the mint leaves.
Finely slice the raw ham.
Roast the sunflower seeds in a dry pan under low heat.
Reduce the balsamic vinegar to ¾, it should become syrupy.
Preparation time: 20 minutes
Cooking time: 0 minutes
Number of people: 2
4 star rating: 1reviews
What wine to drink with: Melon salad
My favorite wine for this recipe: Tavel rosé Grape Grenache noir, clairette blanche, Cinsault
Temperature between 8 ° and 10 °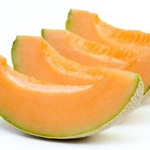 Slice the melon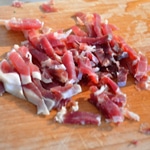 Slice the raw ham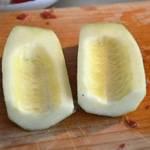 Seed the melon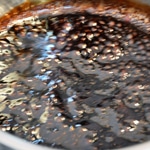 Reduce the balsamic vinegar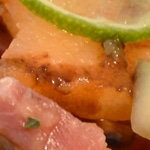 Zoom