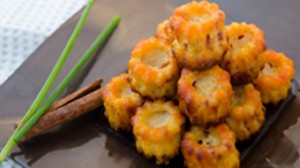 Recipe: Mini cannelé smoked duck breast
Mini savory cannelé recipe for an aperitif dinner with friends, they will not resist the onslaught. Watch the cooking of mini cannelés, in fact the time varies with the type of mold you are going to use. The best of the best is the fluted copper mold, difficult to find, I used silicone molds, but I am not satisfied with the result.
Recipe ingredients
Recipe Mini cannelé smoked duck breast for 4 people
100 gr of smoked duck breast
130gr of Roquefort
50 cl of milk
100 gr of flour
60 gr of butter
1 egg
1 egg yolk
Instructions
Pour the milk into a saucepan, salt and pepper then add the butter and bring to the boil.
Add the Roquefort off the heat to let it melt in the milk.
In a bowl, beat the egg and egg yolk.
Add the flour to the eggs and mix.
Pour the milk in several times and mix.
Mix everything.
Pour the dough into the cannelé molds, fill them halfway.
Cut the duck breasts in half lengthwise.
Add a piece of duck breast in the center of each cannelé.
Place in a hot oven at 200 ° for 35 to 45 minutes.
Preparation time: 20 minute (s)
Number of people: 4
Cooking time: 45 minutes
4 star rating: 1 review
Which wine to drink with: mini cannelé smoked duck breast
My favorite wine for this Grave blanc recipe Grape variety: Muscadelle, Sauvignon blanc, Sémillon
Temperature between 8 ° and 10 °
Thanks to Jean Cyprien for the pictures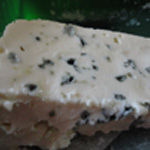 Roquefort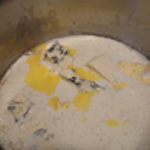 Let it melt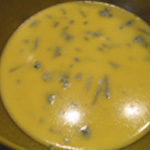 Ready-to-Mold
Magret at the bottom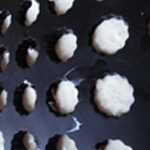 Pour the preparation