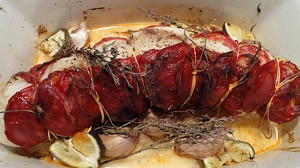 Recipe: Monkfish tail
Recipe for monkfish tail with chorizo, it's been a while since I read this recipe in the monthly magazine "Saveurs", it's kind of my bible. Roast monkfish wrapped in chorizo which will color and flavor the monkfish flesh, while writing the test, I still have my mouth watering, be careful when cooking. My friends loved this monkfish and the wonderful taste of chorizo infused with cooking. A recipe that changes a bit from the traditional American-style monkfish.
Recipe ingredients
Monkfish tail recipe for 4 people:
1 monkfish tail weighing 1 kg
100 gr of sliced chorizo
½ lime
4 cloves of garlic
1 glass of white wine
15 cl of fluid cream
20 gr of butter
Instructions
Remove the skin from the monkfish, or have it done by your fishmonger.
Remove the central ridge of the monkfish.
Place a chorizo blanket on the cut half of the monkfish.
Lay the peel mixes the other half of the monkfish.
Cover the monkfish roast with the chorizo.
Tie the roast with a cotton twine.
Butter a baking dish.
Place the roast tied on the butter.
Add 4 lined garlic cloves (unpeeled)
Pour in the white wine.
Bake in a hot oven at 180 ° for 20 to 25 minutes.
Deglaze with the fluid cream then serve immediately.
Preparation time: 10 minute (s)
Cooking time: 20 to 25 minute (s)
Number of people: 4
4 star rating: 1 review
What wine to drink with: Monkfish tail
My favorite wine for this recipe: Saint Joseph blanc Cépage Roussane et Marsanne
Temperature between 12 ° and 15 °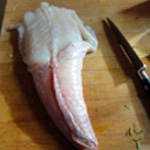 Monkfish whole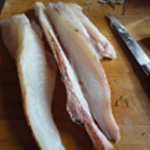 Cut along the edge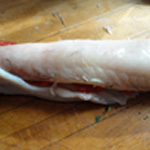 Ask peel mixes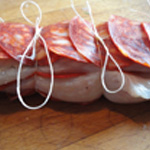 Tie with the chorizo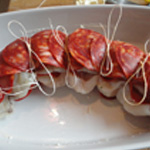 Ready to cook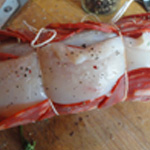 Zoom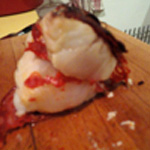 Cooked section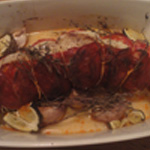 Presentation on the dish