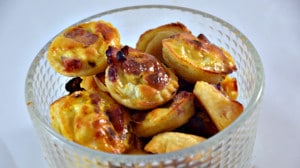 Recipe: Puff pastry with bacon
Lard puff recipe, ideal for an aperitif dinner, I like to prepare my homemade aperitif cakes, always with what is lying around in the refrigerator. Quick and easy recipe, ready in minutes and so much tastier than anything on the market. The smoked belly will deliciously flavor your puff pastry, they will be devoured in a few minutes. Bacon pastry to enjoy during an aperitif with friends.
Recipe ingredients
Recipe for 20 pieces:
200 g smoked bacon
1 roll of puff pastry
2 tablespoons of cream
1 teaspoon of mustard
1 egg
Instructions
Preheat the oven to 200 °.
Roast the bacon on a baking sheet for 10 to 15 minutes.
Roll out the puff pastry by flouring the work surface a little.
Cut out using a cookie cutter, slightly larger than your prints.
Place each impression gently in the silicone molds.
Prick the bottom of the puff pastry imprints with a fork.
Break the egg into a bowl.
Add the mustard, salt and pepper.
Pour in the cream, stir to incorporate it well.
Pour with a ladle into each impression.
Place a few bacon bits in each print
Put in the hot oven, rather at the bottom of the oven.
Cook for ten minutes, watch the cooking.
Let cool, then unmold and enjoy.
Preparation time: 20 minutes
Cooking time: 10 minutes
Number of parts: 20 pieces
4 star rating: 1 review
What wine to drink with: Lard puff pastry
My favorite wine for this recipe: Tokay Grape Pinot Gris
Temperature between 08 ° and 10 °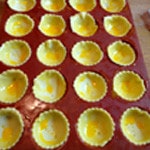 Arrange the dough
Bake the bacon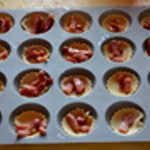 Tidy up in the footprints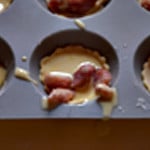 Pour the preparation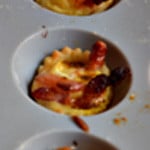 Cooked