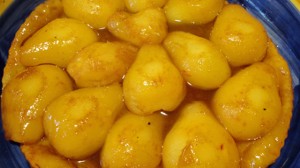 Recipe: Pear Tarte Tatin
Pear tart Tatin recipe, a fairly classic but so good tart recipe, the Pear Tatin is my favorite. The pies and especially the tatins, never leave me indifferent, they are both delicious
Recipe ingredients
Pear Tarte Tatin recipe for 8 people
8 William pears
100 g butter
100g sugar
25 g flaked almonds
Shortbread
Instructions
Prepare the dough Sand.
Make a well with the flour.
Add the sugar, then mix.
Sand with your hand to incorporate the soft butter.
Roll out your dough, distribute the almonds over the dough and iron the roller.
Melt the butter in a saucepan with a thick bottom.
Sprinkle the sugar over the melted butter to make your caramel.
Let your sugar slowly caramelize.
Peel the pears, removing the middle.
Slice them in half and place them gently on your caramel.
Let the juice of the pears evaporate; they must be cooked.
Store the pears to have the minimum empty space, squeeze the pears as they cook.
Wait for them to take on the color of your caramel.
Turn the pears over but be careful, you must end up with the pears upside down since we are going to turn the pie over.
Once you are satisfied with cooking your pears,
place them in your mold with the rounded part on the mold, cover with your shortbread dough.
Bake in the hot oven at 220 ° for 20 minutes.
Take out the tart as soon as the base is cooked.
Turn out the tart while still lukewarm, beware of the hot caramel.
Preparation time: 20 minutes
Cooking time: 20 minutes
Number of people: 8
4 star rating: 1 review
What wine to drink with: Tain pear tart
My favorite wine for this Coteau du layon recipe Grape varieties: Chenin blanc
Temperature between 7 ° and 8 °