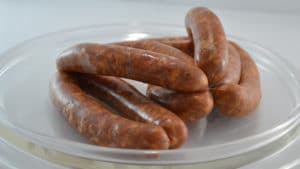 Spicy tomato sausages
Instructions
Spicy sausage recipe with tomato, what a pleasure when cooking them and enjoying them with friends. I like to prepare this kind of preparation and have a good time under the parasols, often with aperitifs that last a little. Tomato sausages they look a bit like merguez, but with a nice green salad and a good rosé or a not too fresh Beaujolais. Homemade sausages are extra class, between us, they cook without smoking the whole neighborhood. They don't cut in half like industrial sausages. Thanks to Christian who came to spend a few hours to introduce me to his old job.
Spicy tomato sausage recipe for approx.41 sausages:
Ingredients:
1 kg of lamb breast
1 kg of lamb
1 kg of flank
1 teaspoon of harissa per kilo
3 cloves of garlic
3 shallots
1 ½ teaspoon of 4 spices
15 gr of salt per kilo of meat
1 can of peeled tomatoes
1 large onion
1 tablespoon of paprika
1 piece of sugar
1 tray of mutton casings
Instructions
Peel the shallots, garlic and onion, then finely chop.
Heat the oil in a saucepan.
Add the shallot, garlic and onion to the hot oil and allow to color.
Pour a tablespoon of sherry vinegar to deglaze
Add the tomatoes and simmer for 45 minutes.
Pour the paprika over the tomatoes
Salt and pepper
Add sugar
Mash with the potato masher before adding it to the meat
Trim the meats and cut them into small cubes to relieve your food processor.
Weigh the meat.
Chop the meat using the small grill, alternating with the shallots, onion, garlic and parsley.
Prepare the salt according to the weight of the meat, add all the spices and pepper.
Mix the meat and the spicy salt with both hands, it is necessary to incorporate the salt everywhere.
Add the cooked tomato and mix new ones.
Wet the mutton casings.
Install the sheep casings in the pusher.
Pour in the meat and start shaping your sausages, it's still easier for two.
Tie by turning your sausages to the length you want.
Reserve your sausages in the refrigerator.
Preparation time: 120 minutes
Cooking time: 0 minutes
Number of people: 41 small sausages
4 star rating: 1 review
What wine to drink with: Spicy tomato sausages
My favorite wine for this recipe: Beaujolais Grape Gamay
Temperature between 10 ° and 12 °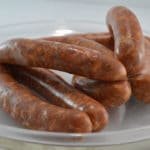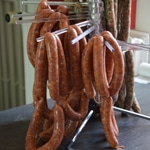 Let dry a little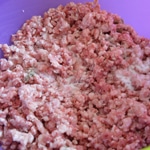 Salt and spice
Chop the meat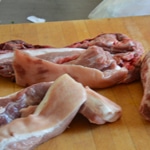 Trim the meats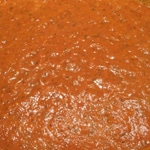 Prepare the sauce