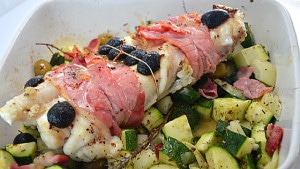 Recipe: Monkfish with bacon
Recipe for monkfish with bacon, it was on promotion in my supermarket, I like it because it catches them directly. I still have a little trouble with this fish, the cooking is still a little overcooked, the next time I will remove 5 minutes. Monkfish is a fairly expensive fish, it's a shame not to know how to cook it so that it remains very soft, I am interested in cooking ideas. Lotta with bacon, here she cooked with zucchini which remained a bit crunchy, I love it.
Recipe ingredients
Monkfish recipe with bacon for 4 people:
1 monkfish tail
2 zucchini
1 onion
120 gr of bacon
1 teaspoon ground pepper
5 sprigs of thyme
1 teaspoon of Provence herb
2 tablespoons of olive oil
Instructions
Remove the skin from the monkfish, or have it done by your fishmonger.
Place the bacon slices on each side.
Add black olive halves.
Tie the roast with a cotton twine.
Season generously with salt and pepper.
Cut the zucchini in 4 lengthwise and then into quarters.
Place them in an oiled dish that goes in the oven.
Peel the onion then finely slice and add to the zucchini.
Sprinkle the herbs
Crush the pepper then add half and season with salt.
Place the sprigs of thyme and pour in the oil.
Place the roast tied up in the dish.
Add 4 lined garlic cloves (unpeeled)
Pour in the white wine.
Bake in a hot oven at 180 ° for 20 to 25 minutes.
Preparation time: 20 minutes
cooking time: 20 minutes
Number of people: 4
4 star rating: 1 review
What wine to drink with: Monkfish with bacon
My favorite wine for this recipe: Saint Joseph blanc Cépage Roussane et Marsanne
Temperature between 12 ° and 15 °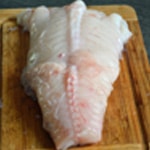 Remove the skin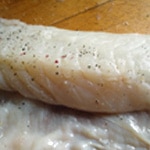 Salt and pepper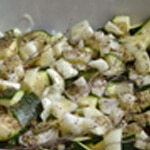 Cut the zucchini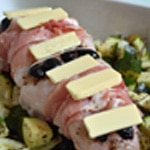 Butter lightly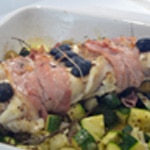 Zoom