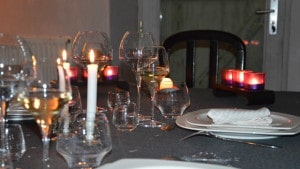 My New Year's Meal Recipe
Instructions
My New Year's meal, the year ends, you have to mark it with a meal worthy of your knowledge. I chose a wild boar for the main course to honor hunting, a tradition since the birth of man. I was lucky to have a friend who gave me a young boar. Often the tradition wants that the new year is spent with your best friends unlike the Christmas evening which is more family. It is customary to start the main course after the New Year's wish. Please note that this moment is often the occasion to taste quality wines and the consumption is often a little more than usual. Conclusion, please sleep there, it will be more careful. The origins of New Year's Eve or New Year's Eve are lost in time. Already in ancient Rome it was a tradition to give a coin to people you appreciate. In some families this is still done. Maybe also religious origins, in any case what is certain, it is celebrated all over the world, so here is my New Year's meal. for the bread, I have not changed from the Christmas one, indeed it pleased a lot.

To end a little quote.
A year which ends, it is a stone thrown at the bottom of the cistern of the ages and which falls with farewell resonances. »Firmin van den Bosch,
The recipes
The bread
The main course
Instructions
Guacamole with ham to prepare on December 30, put in a glass the same day, cover the avocado with a little olive oil to prevent it from oxidizing.
Goat cheese and tomato puff pastry to prepare on December 30 and cook at the last minute
Pacific pink salmon rillettes to prepare on December 30, put in a glass the same day
Sardine rillettes to prepare on December 30, put in a glass on New Year's Eve.
Foie gras with pears to prepare on December 26 and slice just before serving
Langoustine soup to be prepared on December 30th.
Trou Franc-Comtois to prepare on December 19, put in a glass and freeze, take out just before serving and add the alcohol
Leg of wild boar confit, to be prepared on December 29, then heat in the oven to 80 °.
Poire belle Hélène, prepare the ice cream on December 27 and the meringue shells on December 29. Assemble your dessert just before serving and prepare your hot chocolate
The breads will be prepared on the morning of December 31 and baked in the middle of the afternoon.
 </p