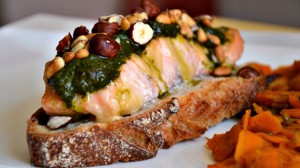 Recipe: Salmon with pesto
Recipe salmon with pesto placed on a slice of bread, dressed with a homemade pesto, this crusted salmon will not leave anyone indifferent. I like baked salmon, here it is placed on a slice of bread which will be lightly flavored and remain crispy. The pesto will flow over the salmon, it colors this dish a beautiful green, the melted Parmesan has crusted on the salmon, test this recipe you will not be over.
Recipe ingredients
Recipe for 2 people:
2 salmon steaks
2 thick slices of country bread
30 g parmesan
1 tablespoon of pine nuts
20 g of hazelnuts
2 tablespoons of pesto
Instructions
Coarsely crush the hazelnuts with a knife.
Finely grate the sliced Parmesan.
Slice two nice slices of bread into a loaf.
Place the slices on a non-stick baking sheet.
Place the salmon on the slice of bread.
Season the salmon with salt and pepper.
Arrange the parmesan slices on top of the salmon.
Place in a hot oven at 200 ° for 13 minutes
Pour the pesto over the salmon just before serving.
Add the crushed hazelnuts and pine nuts
Enjoy hot.
Preparation time: 10 minutes
Cooking time: 13 to 15 minutes
Number of people: 2
4 star rating: 1 review
What wine to drink with: Salmon with pesto
My favorite wine for this recipe: Auxey Duresses Cépage Chardonnay
Temperature between 12 ° and 14 °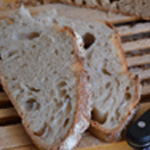 Slice the bread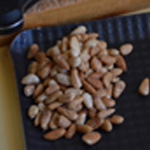 Grill the pine nuts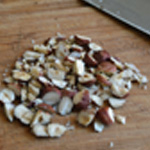 Crush the hazelnuts
Slice the Parmesan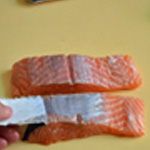 Remove the skin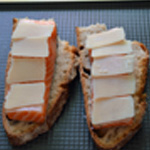 Place on bread, salmon, cheese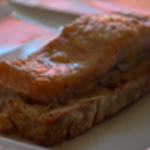 Zoom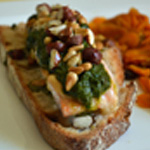 Ready for the oven