Nettle pesto recipe
Summary: Here is an original pesto: nettles picked directly from the forest on a Sunday morning! I just finished my Nettle Pesto, I will be tasting it in a good week. But of course I couldn't resist dipping a finger in the pot and already love it. With this nettle pesto, you will surprise your guests, but be careful during the preparation, gloves are almost mandatory, otherwise the nettles can repel us and call us to order just in case. I took as much pleasure in harvesting the forest from my nettles (well I admit it was a bright sun, that also helps) as in preparing this nettle pesto (surely because the quantities were reasonable). I am waiting for my son who comes back from vacation to taste this beautiful nettle pesto, I will grate Parmesan and put some pink berries for fun.
Nettle pesto recipe for people
Ingredients
30 g nettles
20 g almonds
13 tablespoons of olive oil
50 g of Parmesan to grate
2 cloves garlic
1 teaspoon of fleur de sel
2 knife tips ground black pepper
Instructions
Rinse the nettles with water, then dry them with food paper.
Stalk the nettles and keep only the leaves.
Peel the garlic
Roughly chop the almonds.
Roast the almonds in a pan.
Add the nettles, coarsely chopped Parmesan and garlic to the blender bowl.
Season generously with salt and pepper, pour in half the oil.
Mix without heating the preparation in spurts.
Gradually add olive oil.
Preparation time: 30 minutes
Cooking time: 0 minutes
Number of people: 4
4 star rating: 1 review
What wine to drink with: Nettle Pesto Recipe
The choice of wine will be more focused on the accompaniment of your pesto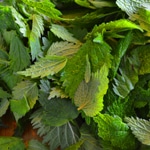 Nettles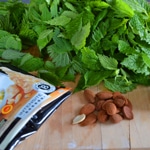 Ingredients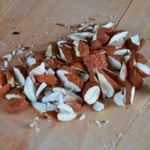 Crush the almonds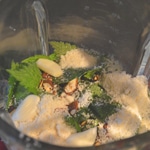 Mix it all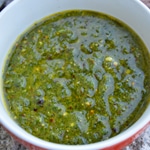 Zoom