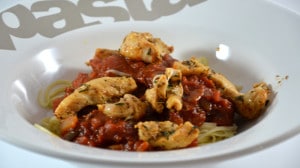 Recipe: Chicken Spaghetti
Chicken spaghetti recipe, there it is the party at home. Indeed it is pasta day, well yes I do it every two weeks and for two weeks. But today it is the children who will choose the accompaniment. I will also be making meat dumplings for my son but that will be the subject of another article. Combine a peeled tomato reduction and spaghetti, I won't explain the taste to you, but these homemade spaghetti are a killer already without sauce so you imagine with a great sauce. Chicken spaghetti, everyone will be delighted, since I started making fresh spaghetti in pasta, yet I let them dry, my daughter no longer wants to eat those found in supermarkets. Well that's why she came to help me, before yes, but after all it's her adolescent crisis, as long as she is not like her mother who remained a teenager until 30 years old, no there I kidding.
Recipe ingredients
Chicken Spaghetti Recipe for 4 people:
400 gr of homemade spaghetti or 300 gr industrial
4 small chicken fillets
1 can of peeled tomatoes
2 cloves garlic
1 onion
1 tablespoon of paprika.
½ teaspoon sweet pepper
1 tablespoon of olive oil.
Instructions
Make the homemade pasta, if you are the one making it like here.
Let the pasta dry overnight.
Reduce the peeled tomatoes under a low heat for at least two hours.
Peel the garlic and onion and add them to the tomatoes at the start of cooking.
Trim the chicken fillet then cut into not too small cubes.
Add the spices, salt and pepper, mix to soak up the meat.
Cook the pasta just before eating it 2 to 3 minutes is enough for the spaghetti.
Drain the pasta at the end of cooking.
Heat the pan with the oil.
Sear the spicy chickens in the pan for 2 to 3 minutes, they should remain tender.
Pour a portion of pasta into each deep plate.
Pour the tomato sauce.
Divide the spicy chickens between the plates.
Enjoy very hot.
Preparation time: 20 minutes
Cooking time: 3 minutes
Number of people: 4
4 star rating: 1 review
What wine to drink with: Chicken spaghetti
My favorite wine for this recipe: Ajaccio red grape variety Siaccarello, Nielluccio
Temperature between 15 ° and 16 °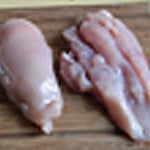 Slice the meat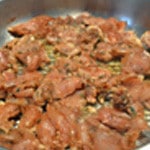 Sear the meat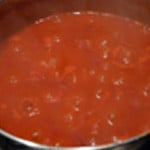 Mix with the meat
Cook the pasta