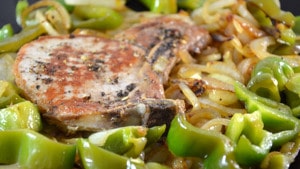 Recipe: Pork chop
Pork chop with peppers and onions recipe. I had them in my freezer for a blackout day. This morning, when I get up, I don't want to cook, we'll see at noon, but noon comes quickly and so does hunger. Luckily I had a pepper that must have been lying around in my refrigerator, some onions, a little rice vinegar and my recipe was ready. I liked the slightly crunchy vegetables and the acidity that the rice vinegar brought, but especially the ease of this pork chop recipe. In addition they were on sale the day I bought them, in short a great deal. Of course, for us, pork remains one of the most affordable meats, and above all, keeping an eye on promotions.
Recipe ingredients
Pork chop recipe for 2 people:
2 raw pork chops.
1 green pepper
2 large onions
1 tablespoon of rice vinegar
1 tablespoon of olive oil.
½ teaspoon of peppercorns.
Fleur de sel.
Instructions
Rinse the green pepper under the tap, then wipe dry with food paper.
Roughly slice after removing the seeds.
Peel the onions, then roughly slice them.
Heat a pan with olive oil.
Grill the pork chop on each side.
Add the vegetables to the pan and let cook.
Coarsely pound the peppercorns, then pepper the rib.
Deglaze the pan with the rice vinegar.
Soak the vegetables with the rice vinegar.
Season with the fleur de sel just before serving.
Preparation time: 10 minutes
Cooking time: 10 minutes
Number of people: 2
4 star rating: 1 review
What wine to drink with: Pork chop
My favorite wine for this recipe: Gamay grape red Anjou
Temperature between 11 ° and 13 °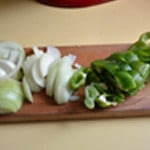 Slice the vegetables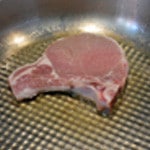 Sear the pork chop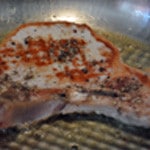 On all sides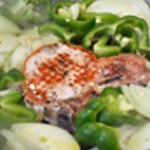 Add the vegetables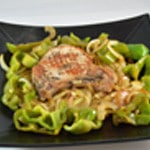 Zoom