Nettles
I decided this morning with this beautiful weather forecast, I would say finally !, to talk to you about Nettles. Indeed I just spent my Sunday morning in the forest, to the delight of my dog Ficelle. Armed with a pair of scissors, gloves and a paper bag, I went in search of nettles. This plant which enjoys an evil reputation. And yet if we dig a little deeper, we see that Mother Nature has given it almost miraculous gifts.
Of course, our first thought, will be the first intentional contact, where the hand unfortunately meets the beautiful erect plant, seeking the rays of the sun. Yes the sting is violent and instantaneous, with a burning sensation, above all nothing serves as the first reflex to scratch, on the contrary it only worsens the pain. Be careful, the irritant effect can last for several hours and even disturb you overnight. At that moment we can say to ourselves that, to be endowed with such a defense, they had to be massacred. In the aftermath after the pain, a skin reaction immediately marks the affected area, pink or red depending on the duration of contact. From where the expression "who rubs there pricks itself there" one more easily understands the customs which inhabit it. Formic acid and acetylcholine are responsible for this burning sensation, it is the nettle's protective mechanism to repel the opportune ones.
"Grandmother" remedies are abundant for relief. Already rinse with clear water or physiological serum, especially do not rub, you risk spreading the hairs of the nettles that have stung you. My grandmother put a little vinegar on us with a compress and the pain is relieved immediately. You can also rub with a mint leaf, just resting it on the itchy rash. After other more chemical remedies exist in case of great contact, such as an antihistamine treatment in the form of creams or tablets, essential oils of Lavender or chamomile, we can also calm with homeopathy….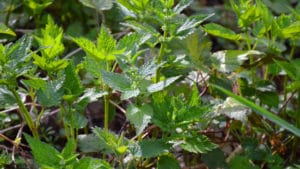 I realize that as I type my article the ideas fuse, it surely comes from the beautiful morning spent in the woods, but especially the culinary results obtained with this plant. I will try to put the recipes online for you later this week, so that you can benefit from them. So I come back to my original project and tell you about the benefits of nettle.
It is given a treasure of health benefits, more or less known. Nettle is made up of many minerals, vitamins (A; B2; B5; B9K), trace elements (silica, manganese, potassium, sulfur) and especially chlorophyll in large quantities.
Here are some examples of the use of nettle:
Diuretic: Drops, urinary calculus, Stimulation of renal function, Enuresis …
Depurative, Acne, Dermotosis, Urticaria …
Demineralization: Anemia, Fragility of the nails Chronic fatigue, Osteoporosis, …
Soothing against pain: Arthritis, Osteoarthritis, Rheumatism, Sciatic neuralgia …
Galactogen: Stimulates the flow of milk by increasing its production and quality.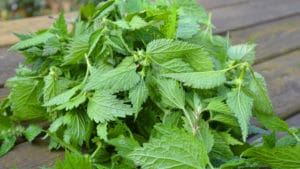 Well I will stop the benefits, because I could still write hundreds of them and this post has no scientific objective; he is right there, to tell you about the culinary benefits of this plant, beneficial for all, I think you have understood it. It is also and above all free and abundant in our gardens, forests, embankments…. Instead, choose places far from modern life and its pollution, deep in the forest, but beware of the big bad wolf …. Keep only the head of nettles on the first 3 to 4 leaves and choose young shoots, protect you with gloves, because even if the young shoots do not seem to sting (you would be wrong to think so), because in the evening, the little itchy attacks will happen and believe me I speak knowingly. Since this morning, I shunned my pair of gloves like a hero, for the evening small burns reminded me of the instructions given at the beginning of the article.
With my Sunday harvest:
I prepared 3 recipes, which will be online within 15 days.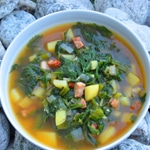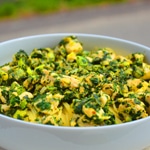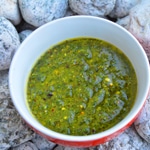 • Nettle pesto
• Chicken with nettles
• Nettle soup
• Eggs cocotes with nettles (To prepare)
• Nettle syrup (To prepare) </p